Cable-Tec 2018 Taking Atlanta By Storm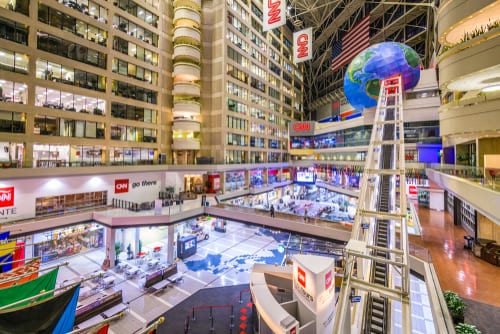 Over the years, SCTE-ISBE Cable Tec-Expo has transformed from a destination for plant engineers and the like to the largest cable telecom event in North America today. But for those worried that the show will begin to drift from its focus on the applied sciences, there's nothing to fear. There are in fact more technical sessions this year than ever before, and on a wider range of subject matters. Rather than shifting in identity, Expo is expanding to allow for all operators great and small to share knowledge and exchange ideas.
"We're becoming more inclusive about the diversity of interests in our market because we have also served ACA, NCTC—and other rural associations still come to us for technological solutions and training in the workforce," SCTE-ISBE pres/CEO Mark Dzuban said, noting that as many of the larger companies continue to develop internal training modules for the latest technologies, smaller players are relying on SCTE more and more for those resources. "Collaboration is a good place for us."
Georgia's capital city of Atlanta will serve as the home of this year's Expo, and as the hub for that collaboration. And just as the cable industry has changed and is changing due to technological advancements, so too is Atlanta.
"Atlanta is becoming quite the tech hub and tech center. Many Fortune 500 companies have moved their headquarters and/or tech teams to Atlanta," Cox Communications evp and chief product & technology officer Kevin Hart said. Hart, who is serving as this year's program chair, knows plenty about the city. Cox Communications calls the city home, and Hart served as a program chair in 2013 when Expo last came to Atlanta.
Heading into this year's Expo, attendees will receive a heavy dose of information surrounding access networks and connectivity. "Probably 90% of the homes we pass by the end of 2018 will have accessibility to 1 Gigabit speeds through our DOCSIS 3.1 efforts," Hart said, adding that all of the companies that have been hard at work on the standard, equipment and related access networks will have a presence at the show. "Additionally, as we think about the next generation of DOCSIS, full duplex DOCSIS, content-enabled 10 Gigabit upstream and downstream… you'll see that in full display," Hart added. Other topics to be explored will be the convergence between wireline and wireless and how the industry is leveraging its access points to provide small-cell connectivity.
This year's Expo will also see the introduction of a Smart City Experience. By 2030, two-thirds of the world's population will be living in cities, the urban population in developing countries is set to double and the areas covered by cities could triple. Cities choosing to invest in getting "smarter" have already begun to improve safety and general quality of life for their citizens, according to SCTE.
Those interested in learning more about Smart City applications and what it takes to make them operate effectively can visit a display area hosted by Arris's Ruckus Networks, Tektelic, LG-MRI, AXIS Communications and Signify. The exhibit will include an internet kiosk, IoT sensing solutions, smart street furniture and wireless camera systems. All of the devices will utilize WiFi, telemetry and sensor technology to relay and receive data from centralized monitoring hubs.
Dzuban and Hart have a rockstar lineup of thought leaders to cover as many topic areas as possible. Cox Communications pres Pat Esser is teed up to serve as the general session keynote speaker. Other featured speakers include CableLabs pres/CEO Phil McKinney, Charter Communications svp, operations, and last year's WIT honoree Deborah Picciolo, Cable Center pres/CEO Jana Henthorn and NCTA pres/CEO Michael Powell. Vernice "FlyGirl" Armour, the US's first African American female combat pilot, also will be on hand to deliver her inspirational message at the Annual Awards Luncheon on Wednesday.
While there's certainly going to be plenty to explore on the show floor, the program committee organized the technical workshops into eight tracks that will allow every attendee, from the newcomer to the technical whiz, to customize their experience.
For example, Cisco svp/gm Yvette Kanouff, who's helping to lead the Virtualization and Cloud track, said that attendees can go all the way from the 101 session "Virtualization and Software Defined Networks: Demystified" on Monday to one that examines what is being virtualized and those services themselves, such as "The SD-WAN Caravan: Expanding Beyond the Enterprise & SMB Sectors" on Wednesday.
Kanouff, who has previously served on the planning committee and as chmn of the SCTE board of directors, highlighted this end-to-end perspective as something that has her especially excited for this year's Expo.
"Kevin's done a really good job of breaking things apart into categories and then within the categories to make them flow well," Kanouff said.
Acknowledging that Expo now has so many topics to cover due to its size and the rate at which the cable industry is revolutionizing, Kanouff said that translating those topics into today's world is the real "secret sauce" of the show.
"You can go to a conference and it's hard to put that together and relate it to how it specifically relates to cable," she said. "We've gone through great lengths to take this concept of hybrid cloud or edge networks and put the examples in for a cable network just so people can relate to it."
Although other shows have disappeared over the years, there's something about Expo that has Kanouff believing it has a long life ahead.
"It doesn't matter if you're an outside plant manager, an inside plant manager, a senior executive, a next-generation network person—it has a place for everybody," Kanouff said. "It's very broad that way on the engineering and technology side."
Expo is taking the first steps toward that future this year, thanks to Dzuban and Hart's vision of helping to communicate and train others regarding the next-gen technology on the horizon.