Amazon Unwraps Kindle Fire TV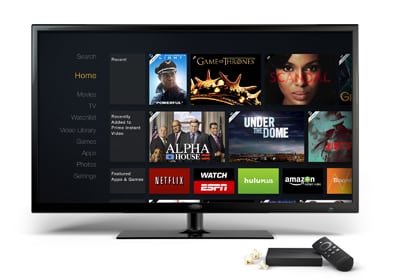 Amazon's much-buzzed about device was unveiled Wednesday, and it's a combo video streaming and gaming device. The Fire TV set-top is Amazon's answer to Apple TV, Google's Chromecast and Roku. It plugs into an HDTV for instant access to Netflix, Prime Instant Video, Hulu Plus, Showtime Anytime, WatchESPN and more. Shipping now, it retails for $99 at Amazon.
Perhaps what sets Fire apart is its gaming capabilities. It's no Xbox One. But it also doesn't cost nearly as much. Over 100 games, including Minecraft, Monsters University, The Walking Dead, Despicable Me: Minion Rush, are available today. They aren't free, but Amazon pegs the average price at $1.85. Fire TV also comes with access to Sev Zero, a new game built exclusively for the box. Sev Zero is $6.99 and is available for free when you purchase the $39.99 Fire game controller.
It includes a Bluetooth remote with voice search capabilities. Fire has a movie and TV library of more than 200,000 titles and is integrated with Prime Instant Video. Fire TV buyers are eligible for a free month of Amazon Prime and Netflix. Amazon's device isn't a stick, but a small (0.7-inch thick) box, with the company promising a quad-core processor with over three times the processing power of Apple TV, Chromecast, or Roku 3. Fire TV streams in up to full-HD 1080p and supports HDMI and optical audio-out, enabling up to 7.1 Dolby Digital Plus surround sound.