Alaska Named SCTE Chapter of the Year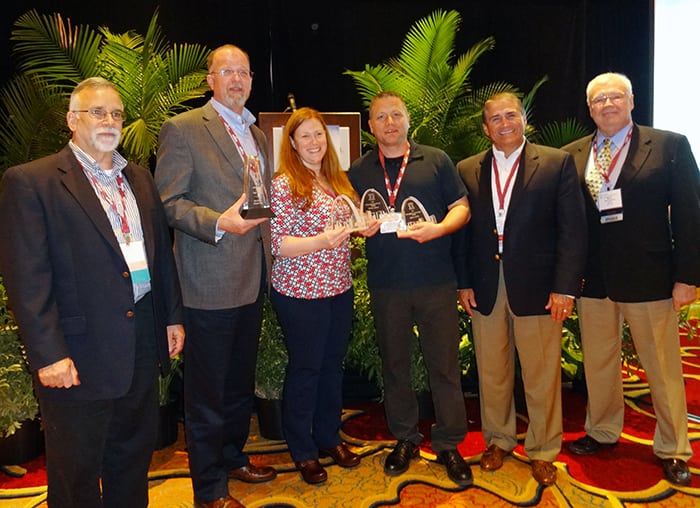 For the second year in a row, the Society of Cable Telecommunications Engineers (SCTE) chapter of the year award goes to the Alaska Chapter, part of SCTE's Region 3. The award honors the chapter that exhibits the highest level of excellence throughout the year.
Based in Anchorage and helmed by chairman Markus Kofoid, OSP design engineer with GCI Communications, the chapter was honored at the 14th Annual SCTE Chapter Awards Dinner last week in St. Louis as part of SCTE Chapter Leadership Conference (CLC) 2015.
Awards for 2nd through 8th place for chapter of the year were also presented at the event. The honorees include, from 2nd to 8th: Razorback, Golden Gate, Llano Estacado, San Diego, Dakota Territory, Crystal Coast and New England.
The categories of most improved, compliance, recruitment, striving for excellence and professional development were doled out as well. The overall most improved chapter award went to Dixie. Compliance went to Alaska, Golden State and Razorback, in a tie, and most improved compliance went to Crystal Coast.
For Recruitment, Mount Rainier took home honors, and most improved was Crystal Coast. Alaska also won the striving for excellence award and most improved in this category went to Great Valleys. Lastly professional development went to Alaska once again, and most improved in this area was awarded to Shasta/Rogue.
Three chapters earned a chapter achievement certificate: Cascade Range, Piedmont, and Southern California. For more info, go to www.scte.org/chapters.