4K Viewership Expected to Increase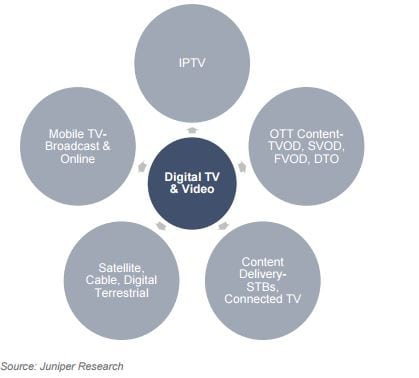 Juniper Research reports 4K OTT TV and video content will exceed 189 million global users by 2021, up from 2.3 million users this year, according to their new data from the Digital TV & Video: Network and OTT Strategies 2016-2021. Juniper's research means one in ten US residents will watch 4K content online by 2021, compared to one in five hundred in 2016.
Two factors will drive 4K OTT content's mass-market appeal over the next five years: greater availability of content and the increase in the number of compatible devices. The surge in OTT providers' original content offerings–such as Netflix's "Orange is the New Black" and Amazon's "Man in the High Castle,"—has grown the number of 4K offerings. According to Juniper, 2016 has seen a record roll-out of new 4K-offerings, such as Sky Q 4K in the UK. Original content is imperative for network providers, for many have been waiting to amass a substantial amount of content before launching their own 4K offers.
4K-accessible streaming devices include TVs, smartphones, tablets and PCs, yet availability remains limited. New hardware launches have and will continue to offset this limited availability. For example, XBOX One S with 4K capability will launch this month. By the end of this year, Juniper Research predicts 15% of households will own a 4K TV.
4K is not the only technology on the horizon. Juniper forecasts 8K will emerge by 2020, with Japan seeking to broadcast the 2020 Olympics in 8K. Even though there is only one 8K TV currently available for consumer purchase –and priced at $133,000—Juniper predicts 8K smart TV shipments will increase more than threefold between 2020 and 2021, reaching over 400,000 per year by 2021.
Juniper Research's report included a variety of forecasts for the OTT market. The research company expects SVOD services' revenue to jump from $14.6 billion this year to $34.6 billion by 2021. Juniper also predicts an increase in high-tier pricing subscriptions as SVOD consumers demand higher quality content and multiplatform service availability. For more information, the whitepaper Digital TV ~ Skinny Bundles and Cord Shaving is available for download via the Juniper website.