Invitation to Sponsor – TV Innovation Summit
 
September 18, 2014 | Grand Hyatt, NYC
The Day After The Kaitz Dinner
Invitation to Sponsor: Only a Few Spots Left!
Cablefax's TV Innovation Summit is bringing together cable experts for a unique conference that will give you vital insights on how multiplatform marketing, advertising and tech innovation is fueling new revenue opportunities for TV content owners and distributors.
Get brand exposure and network with some the biggest names in the business!
Speakers Include:
•Clayton Banks, Ember Media
• Bridget Baker, Former NBCUniversal
• Ann Carlsen, Carlsen Resources
• Brad Dancer, National Geographic Channels
• Debra Sharon Davis, Davis Communications
• Raymond Dooley, Sundance TV
• Beth Fraikorn, Remarkable Content Group
• Cathy Hetzel, Rentrak
• Rob Holmes, Comcast
• Glenn Hower, Parks Associates
• Dave Kaplan, Bravo & Oxygen Media
• Barbara Leflein, Leflein Associates
• Ron Lamprecht, NBCUniversal
• Mark Lieberman, Viamedia
• David McNaughton, Mediacom Communications
• Bryan Neider, Electronic Arts
• Chris Pizzurro, Canoe Ventures
• Robyn Polashuk, Covington & Burling
• Tracy Powell, A+E Networks
• Emil Rensing, EPIX
• Gary Reisman, Leap Media Investments
• Evan Silverman, A+E Networks
• Michael Thornton, Starz
Sponsorship Packages* Include (but are not limited to):
• Executive speaking slot on a panel
• Complementary ticket(s) to the summit
• Exhibit table
• Additional stage time
• Logo recognition on all event signage
• Sponsor designation on all marketing materials -print + online
• Print ad in the onsite program guide
• Premium distribution to attendees
• Provision of attendee list
• Banner ad in The Skinny eletter from Cablefax
• Banner ad on Cablefax.com
• Survey to subscribers prior to the event
• And more!
*Custom sponsorships are available upon request.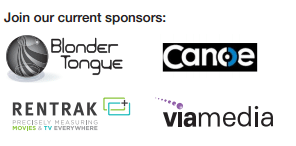 If you would like to sponsor the Cablefax TV Innovation Summit, contact Diane Schwartz at dschwartz@accessintel.com or 212-621-4964.
For more information visit www.Cablefaxtvsummit.com.