New Book Gets You in eSports Game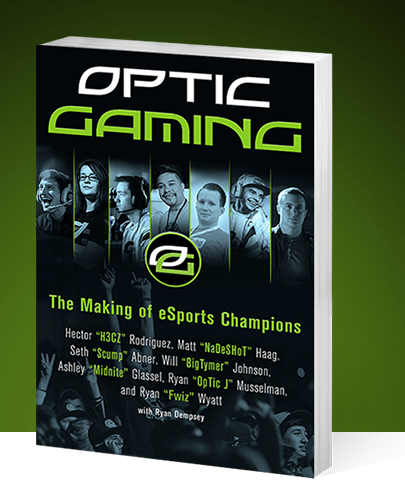 While eSports are gaining momentum, it can be a bit difficult to completely grasp the concept. After all, haven't we been yelling at teenagers for decades that they can't make a living playing video games? New research from Newzoo predicts that more than a billion people will know of eSports' existence by the end of the year. Hence the rush by major programmers such as ESPN and Turner to join the party.
A book being released this month helps provide a clearer picture of the personalities behind this phenomenon, walking the reader through eSports' infancy to today. OpTic Gaming: The Making of eSports Champions (May 17, Dey Street Books) gives the inside scoop on the four-time "Call of Duty" Major League Gaming Champion team.
While some of the content is very gamer heavy (the team members are referred to by their gamer names and do things such as rank their favorite versions), there's a real sense of the entrepreneurial spirit involved. Take team founder and CEO Hector "H3CZ" Rodriguez. He wasn't some teenager living in his basement when he rolled the dice/game controller—he was an AIG employee with a child on the way who had just been laid off.  "As scary and as uncertain as that moment was, it was also my proudest moment. At twenty-nine years old, I jumped in headfirst and cut myself off from the safety net previously provided by corporate America," he writes.
While the book is about these gaming superstars, it's also a good primer on how eSports evolved from some teams paying their own money to travel and compete in tournaments where they rarely broke even to the sponsored teams and million-dollar prizes of today. Just last month, Twitch and Faceit launched the "Esports Championship Series" with prize money of $3.5 million.
OpTic scored a partnership with Machinima back in 2009. The team was given a main hub channel called Optic Nation and 10 members were also given their own channels—a move that Rodriguez says let the fans get to know everybody. When Maker came knocking with an offer for more money, Machinima matched it.
The book also helps you understand the power of social media with gaming. Will "BigTymeR" Johnson was in the gaming version of The Guinness Book of World Records for winning 13 Call of Duty titles and becoming the highest-earning player between 2009 and 2012. Guinness found him on Twitter and set off to his tiny Arkansas hometown for a photoshoot.
And yes, there are moments that make you laugh as the gaming stereotypes come into play. "It might not be morning for you, but it's morning for me. Well, it's 1:30pm, but that's as close to morning as I get these days. Most gamers don't get up before noon anyway," writes Seth "Scump" Abner. Fun fact… His father, Shawn Abner, was the #1 pick in the 1984 MLB draft.
Ashley "MiDNite" Glassel offers the perspective of a female gamer. She describes her surprise in 2009 as she stumbled upon another girl playing Call of Duty online for the first time. Rodriguez credits her with helping him realize YouTube wasn't only for Call of Duty or for men.
This is a new breed of entrepreneurs, with some of the team going on to jobs at Google or being named to the Forbes 30 under 30 for the gaming industry. When you need a break from your typical business reads, give this a shot. Warning: You might find yourself buying an Xbox after you finish.