Machinima Launches App With Victorious Platform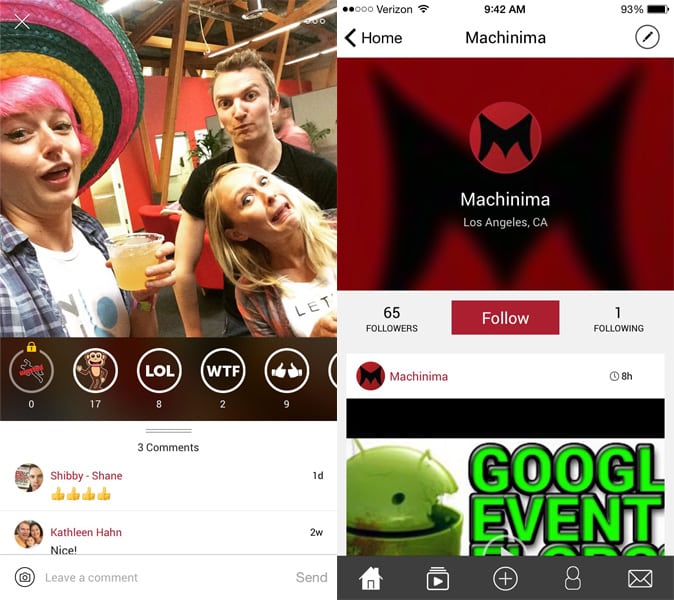 Multichannel network Machinima launched a new app this week with mobile platform Victorious, the company powering mobile content for Awesomeness TV, The Young Turks and Michelle Phan, among others. The app includes exclusive content, access to popular creators and interactive social features.
The exclusive content won't just be from creators. Part of it will be a behind-the-scenes look at Machinima as a company. Employees will use it to show what it's like to work at Machinima, for instance. And "creators will use it to build awareness around their content and foster a community," said vp of product development Ed Lopez, "and of course, viewers will be able to respond to the media they consume providing real time feedback to our creators." Right now it's all VOD content, but the company does have plans to make live content available in the future.
Some Machinima creators will get their own branded app, "so they can control the content they want to share with their audience as well as the look and feel of the app," said Lopez. "Those apps will be live as long as the creators wants." The idea is to create a personal relationship with fans.
Some of the social video fan interaction includes the ability to post native video, vote on custom poles, upload pics while captioning others and create GIFs. You can also comment with descriptors like 'Monkey Poop', 'LOL' and 'WTF'.
A key aspect of the app launch is timing. The 2015 Electronic Entertainment Expo (E3) kicks off June 16 and Machinima talent, including TheZombieUnicorn, Gizzy14Gaza and JeromeASF, will be sharing content from the event exclusively through the app. Expect the same kind of takeover with events important to gaming and fandom culture, like Comic-Con.