Hulu Launches Ad-Free Option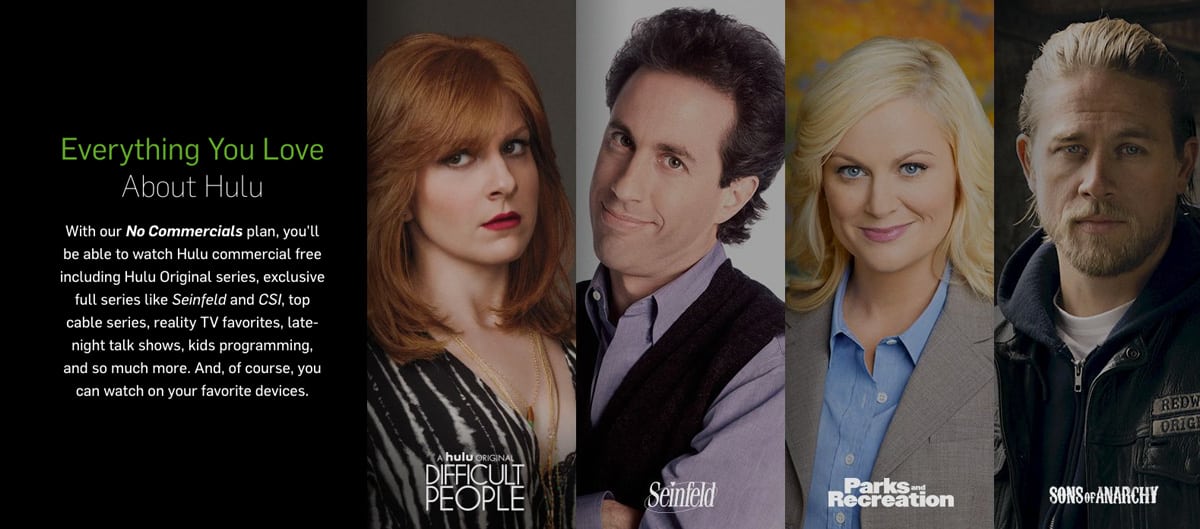 In an effort to appease many subscribers that weren't fans of advertisements, Hulu launched an ad-free version of its video streaming service on Wednesday for $11.99 a month, $4 above the version it offers with commercials. Through iOS, the subscription is $13.99 a month, due to Apple's transaction costs. Subscribers can upgrade at any time, the company said.
"Many of our customers have asked us for a commercial free option, and so today we are excited to introduce just that," said CEO Mike Hopkins in a statement. Hulu has already begun targeting consumers through email who have dropped the service by offering a free one-week trial. The pitch is not without humor—an appropriate angle for a platform that's known for SNL clips, has every episode of "Seinfeld," and recently has been pushing its original comedies.
"On [insert date the subscriber canceled here], you did something for which we'll be forever grateful – You canceled your Hulu subscription.
It was like a tough love, teaching moment from a 90's sitcom. The saxophone music cued. You sat us down on the living room sofa. And we had a heart-to-heart.
And whether you canceled because of the commercials, for another reason, or at your horoscope's suggestion, we want you to know—we hear you.
We want to make ourselves better by offering you the choice to watch the best TV commercial free. So as a token of our gratitude, please enjoy a one-week free trial."
Not to mention, the subject line: "Thanks for Canceling!"
The platform is certainly beefing up its originals and recently cut a deal with EPIX after the programmer's contract with Netflix was up. The new service is not totally ad-free, though. Certain shows, including "Grey's Anatomy," "Once Upon A Time," "Marvel's Agents of S.H.I.E.L.D.," "Scandal," "Grimm," "New Girl" "How To Get Away With Murder" will still have commercials. "We have not obtained the rights to stream commercial free and they are not included in our No Commercials plan. You can still easily access these shows with a short commercial before and after each episode with no interruptions during the episode," Hulu said in a Q&A section. Aside from that exception, however, Hulu is starting to look a lot more like Netflix and Amazon.