AwesomenessTV NewFront: We're All About Gen Z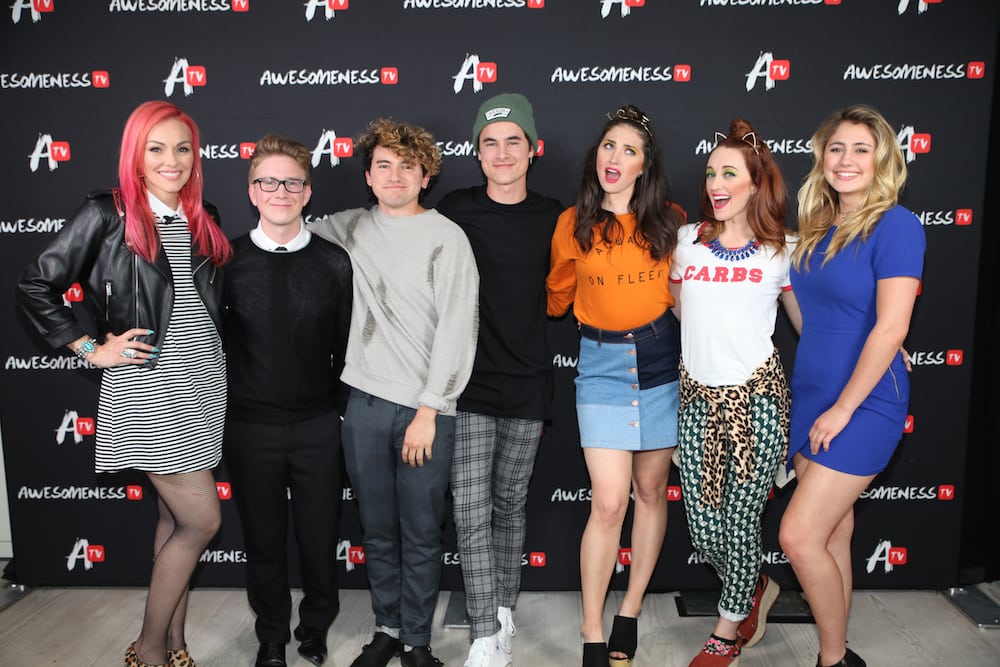 If you've attended even just a few NewFronts in NYC this past two weeks, you've likely been inundated by virtual reality and branded studios initiatives. Not so at AwesomenessTV's event Wednesday evening. In fact, execs called out the fact that they're deliberately avoiding those two trends. "I'm absolutely not going to announce anything about VR," said co-founder and CEO Brain Robbins. And later, AwesomenessTV proudly announced that in 2016 it is not creating a brand studio.
Instead, the focus of the event was on catering to Gen Z through the network's 31 platforms—particularly on a mobile device. "The smartphone changed everything about how the younger generation gets content and engage with media," Robbins said. ATV is not about millennials, he added, but rather the 12-24-year-old set. "The 17-year-old has a smartphone—and that private screen has become a personal concierge with an entertainment experience that's uniquely their own." And here's the best part: They have money. "Gen Z, they are rich. Seriously. They are loaded. They have their parents' money," Robbins quipped. And since they're not finishing college for a couple years, they're not paying back student loans yet. "And, they all have smartphones, which are basically credit cards," he pitched. It's not the moms who are driving household and purchasing decisions, as many in the industry attest. It's the kids.
But that doesn't mean Awesomeness is leaving young moms behind. It does have a lifestyle brand for digitally-minded millennial moms called Awestruck. "[Millennial moms] are spending an average of 6 hours a day on their mobile device," said president Brett Bouttier, which translates to a lot of social video. ATV has assembled a group of mom influencers including GloZell Green, Molly Sims, Leah Ashley and Nikki Baker to join the brand's current crew of talent.
Rather than going the VR route, ATV is getting into messaging. It announced a partnership with messaging app Kik, which the company claims engages with 40% of teens. The brand has created an ATV bot that kids can interact with and soon will launch more bots for individual characters in scripted series and films on the network. Robbins also announced an app for Apple TV. "On the distribution side, we see a really great opportunity in the connected TV space," he said.
And instead of a branded content studio, it's partnering with video-data and tech company Zefr on a multiplatform distribution program dubbed Signal, designed to distribute custom branded content across platforms and align it with the most relevant videos. ATV will also use Brightline for interactive advertising across connected TVs and OTT platforms.
Regarding programming, the company announced new seasons for series "Royal Crush" and "Guidance," as well a new series dubbed "t@gged" debuting this summer on go90, a scripted thriller about three teenage girls whose social media profiles have been tagged to a murder online. ATV is also collaborating with Major League Baseball to create a new series intended to get Gen Z interested in the game. Finally, ATV brand DreamWorksTV will kick off its first live event production, Kids' Game Awards, taking place in October.