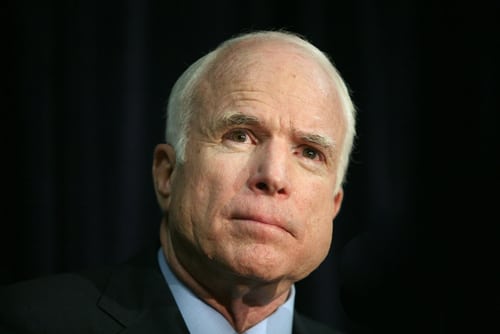 The late John McCain wasn't always a fan of cable, but the differences in opinions over the years didn't stem the condolences following his passing Saturday. McCain was described as a leader who welcomed open dialogue.
When he chaired the Senate Commerce committee in 2003, he went after rising cable rates. The Republican also was a proponent for more than a decade of a la carte, introducing various bills, including a failed 2013 measure that would link the compulsory copyright license to the "voluntary" offering of a la carte programming.
Differences of opinions didn't lower many people's opinion of the man.
"Noble war hero, fearless patriot, courageous public servant, Sen. John McCain gave his everything to the United States of America. We honor the memory and the service of Sen. McCain, and we also send our deepest condolences and prayers to his family," ACA pres/CEO Matt Polka said.
Progressive Policy Institute pres Will Marshall noted that the two were on opposing political teams (and he finds it hard to "forgive him for inflicting Sarah Palin on the nation"), but the two still worked together on causes, including enlarging national service and closing special tax breaks for business. "John McCain possessed in abundance an old-fashioned quality that, in these low, dishonest times, our elected leaders need more than ever—a sense of honor," Marshall wrote.
Cable networks are airing various tributes to the senator. HBO will encore its documentary "For Whom the Bell Tolls" on Wednesday at 8pm (Saturday at 3:45pm) and is elevating it on the HBO Now and HBO GO homepages.