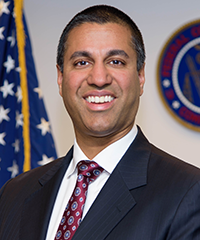 FCC chmn Ajit Pai intends to depart the FCC on Jan 20, 2021. Pai joined the Commission in May 2012, having been appointed by then-President Barack Obama and unanimously approved by the Senate.
"It has been the honor of a lifetime to serve at the Federal Communications Commission, including as Chairman of the FCC, over the past four years. I am grateful to President Trump for giving me the opportunity to lead the agency in 2017, to President Obama for appointing me as a Commissioner in 2012, and to Senate Majority Leader McConnell and the Senate for twice confirming me," Pai said in a statement. "To be the first Asian-American to chair the FCC has been a particular privilege. As I often say: only in America."
Pai counted closing the digital divide, promoting competition, protecting consumers and fast-tracking the deployment of 5G as some of his proudest achievements in his announcement, thanking the FCC's staff for their work during the COVID-19 pandemic.