New FCC.gov Launches Today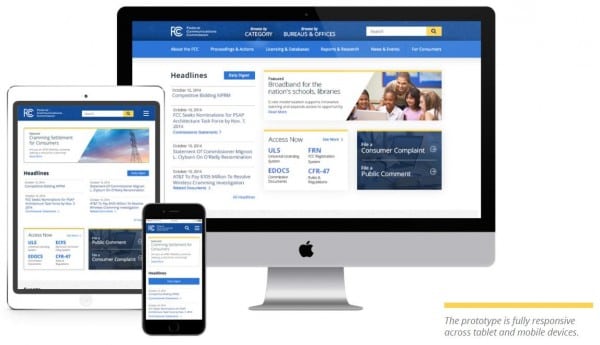 If you surf over to FCC.gov, things will look a little different. The agency has tried a few times over the years to make the site more user-friendly, with members of Congress even weighing in on the cumbersome nature of it. This latest attempt also be the brightest, with lots of white space and a bold yellow and blue design.
One of the most confusing aspects of the site has been the Electronic Document Management System, where the public and companies files comments. The new search function brings together results from both FCC.gov and the Electronic Document Management System, though users have the ability to refine their search to only EDOCS or FCC.gov. The agency plans to add new data sets to the search application over time.
The FCC is definitely encouraging public participation. Very prominent on the new site is "File a Consumer Complaint" and "File a Public Comment." The site's been upgraded to be responsive to the device being used, whether it's a tablet or a computer.
As the public has weighed in on more proceedings—the Open Internet proceeding received nearly 4 million comments—the site has experienced growing pains. EDOCS was unavailable at times during the Open Internet proceeding.
In August 2014, the Commission began a six-month research and design project to improve the functionality of FCC.gov. One of the goals has been to make a clear separation of consumer vs practitioner-focused content. The project is a little behind schedule, with a blog post in April describing how the FCC would launch an improved FCC.gov design by September 30.
The site also is a leap forward in terms of social media. Bios of each commissioner also includes their Twitter handles.
The FCC is seeking feedback and suggestions via email to WebFeedback@fcc.gov. The agency is encouraging users to send feedback and alert it to any content that needs to be updated or bugs.