Microsoft Makes Full-Court Press on White Space Plan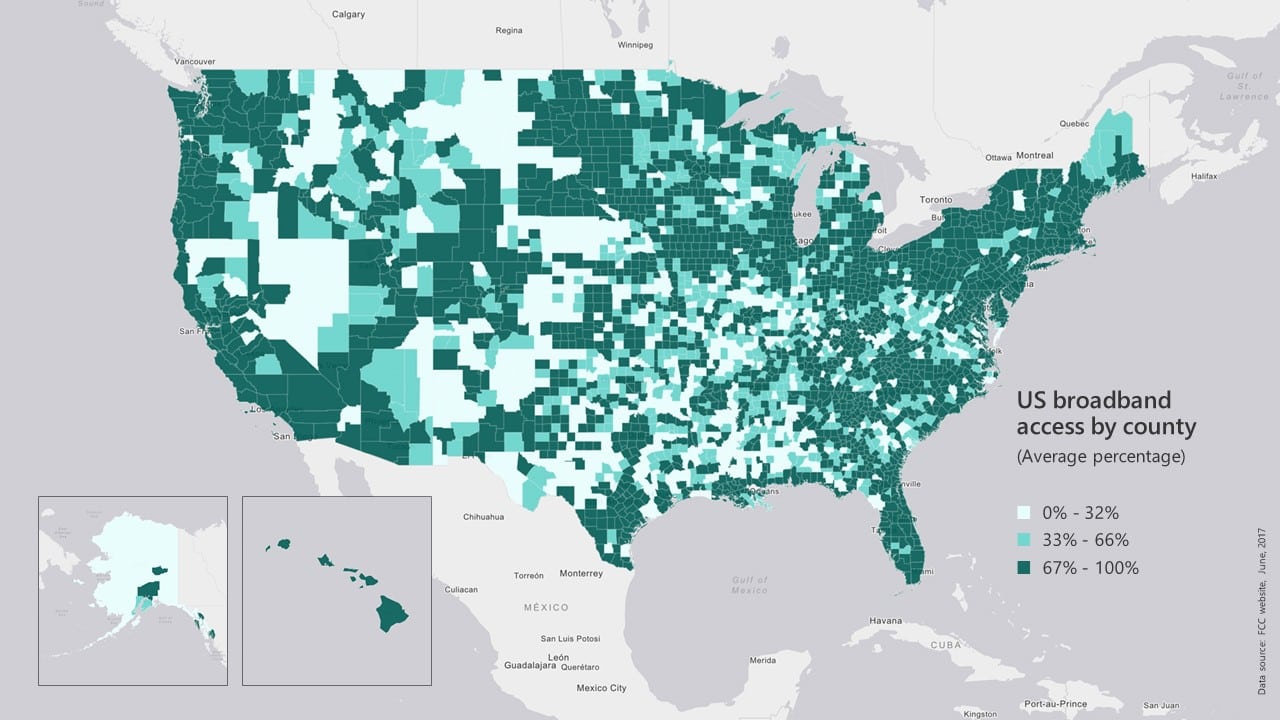 Microsoft took its TV white spaces pilot program to Washington Tuesday, with president and chief legal officer Brad Smith using a Media Institute luncheon to plug its efforts to narrow the digital gap.
"Broadband services have become a necessity for life. We need a new approach as a nation to close the broadband gap," Smith told the crowd, comprised largely of lawyers and policy makers in the media space.
Microsoft has spent several years working on the issue, releasing a white paper this week outlining recommendations such as the FCC ensuring access to the TV white spaces, the unused spectrum below 700 MHz that can be used as a vehicle to deliver access to broadband services. The company's also calling for federal and state infrastructure investments that include targeted funds on a matching basis for the capital investments that will best expand broadband coverage in rural areas.
The proposal has been met with mixed responses. Broadcasters have a long history of opposition to the use of white spaces, expressing concern it will interfere with broadcast spectrum. The cable industry has also been closely monitoring whether use of such unlicensed spectrum will cause interference. Dennis Wharton, evp of the National Association of Broadcasters, took a particularly hard stance, calling Microsoft's white space device development a "well-documented, unmitigated failure."
"It's the height of arrogance for Microsoft—a $540 billion company—to demand free, unlicensed spectrum after refusing to bid on broadcast TV airwaves in the recent FCC incentive auction," Wharton said in a statement. "Policymakers should not be misled by slick Microsoft promises that threaten millions of viewers with loss of lifeline broadcast TV programming."
Microsoft's approach is centered on TV white spaces. The tech's ability to carry communications over great distances and through obstacles better than cellular bands leads it to be perfectly suited for rural communities. The idea is to use TV white spaces in areas with population densities between two and 200 people per square mile, with satellite coverage considered more sensible for areas with densities of less than two people per square mile. More populated areas can benefit from fixed wireless.
"The cheapest approach is to deploy a mixture of these technologies," Smith said. "We start to have a problem that is more affordable to solve." According to Microsoft, using a mixed model will bring the total national cost of closing the rural broadband gap to $10 billion.
Smith and company are currently overseeing more than 20 Microsoft TV White Spaces Pilot Projects around the world, connecting 185,000 people. Through the Rural Airband Initiative, they are looking to expand the program across the United States, creating 12 new programs in 12 states in the next year. Smith hopes that through these new programs, Microsoft will connect 2 million more people, inspiring those in the public and private sectors alike to take a renewed interest in the broadband gap.
"It is our goal to not make a profit," Smith said. "We can't solve the problem, but we can be catalysts."
Microsoft's effort does have its supporters. Public Knowledge svp Harold Feld praised the initiative, saying that NAB has "consistently delayed FCC action," a necessary step in making TV white space technology more affordable. "Microsoft's proposal to 'seed' TVWS technology guarantees that if the FCC will prioritize rural broadband over broadcast lobbyists, we can solve the digital divide and make affordable broadband available to all Americans," Feld said in a statement.