Happy Birthday, Telecom Act!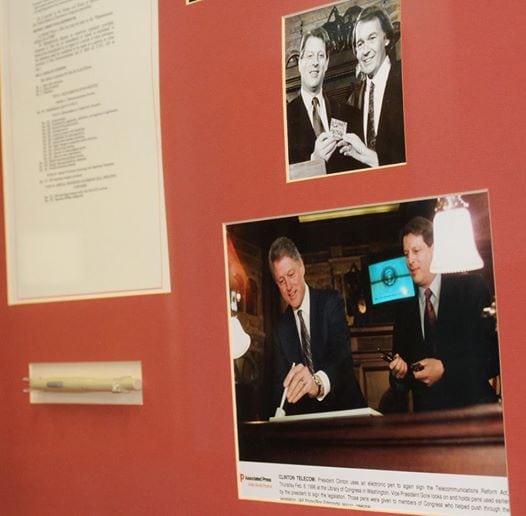 While there's been plenty of talk over the years of the need to update the Telecommunications Act of 1996 to account for the changes in technology, it's still the law of the land. And this week, it celebrated its 20th birthday.
The bill was the first major overhaul of telecommunications law in more than 60 years—which helps explain why everyone is reticent to begin a complete rewrite. Among many other things, the Act deregulated cable rates and permitted the FCC to ease cable-broadcast cross ownership rules.
Plenty of people tipped their glasses to the Act this week, from Sen. Ed Markey (D-MA), who was the chief-co-author of the legislation, to the Consumer Technology Association (which was known back the as the Consumer Electronics Association). Here's a smattering of their birthday wishes and reflections on the legislation…
FCC chairman Tom Wheeler: "Those of us following the instructions of the Telecom Act can—and must—encourage whatever that 'next' is through good old American competition.  We can—and must—enable whatever is 'next' with new spectrum—including spectrum to assure American leadership in 5G.  And those of us with responsibility today can—and must—harness the wisdom and the instructions in the Telecom Act of 1996 to put consumers first."
NCTA president/CEO Michael Powell: "Sadly, the exceptional bipartisan consensus that gave birth to the 1996 Act and its liberating regulatory framework is breaking down. Now, the ambiguity of the Act—only getting worse with time—is being used to resurrect a muscular regulatory model that places renewed (and unfounded) faith in regulators to manage the Internet."
CTA president and CEO Gary Shapiro:  "The Internet as we know it today—a platform for accessing information and developing new consumer markets—is a product of this Act. The same is true for advancements in mobile phones, television delivery and viewing, and the ongoing innovation revolution resulting in new products and services such as online streaming, wearable computers, ridesharing, homesharing and online review sites."
AT&T Senior EVP of External & Legislative Affairs Jim Cicconi: "Passage of the Telecommunications Act of 1996 offers great perspective on today's political and policy gridlock in Washington.  It signified a moment in time when an Administration and far-sighted legislators from both parties, holding different perspectives, but all keenly interested in the dawning Internet age, joined ranks to craft a statute that was far-reaching in its scope and visionary in its impact."
Tech Freedom: "Here's our take on what Congress got right (some key things), what it got wrong (most things), and what an update to the key laws that regulate the Internet should look like. The short version is:
End FCC censorship of 'indecency'
Focus on promoting competition
Focus regulation on consumers rather than arbitrary technological silos or political whim
Get the FCC out of the business of helping government surveillance"
Sen. Ed Markey: "'96 Act continues to be our communications constitution [because] we passed it with strong bipartisan support #96×20."
NTIA Head Larry Strickling: "Since [its enactment], we have witnessed an incredible transformation of our communications landscape. As we look forward to the future, we must continue to support innovation and economic growth by strengthening competition and the free flow of information."
If you really want to get into the spirit, check out this video from C-SPAN of the signing ceremony in 1996.