Free Speech Week – Talking Elections, Colleges & First Amendment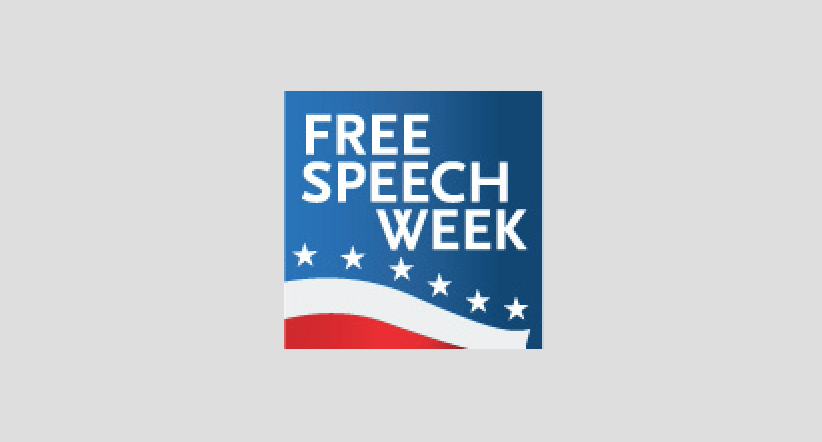 It's Free Speech Week, a non-partisan annual celebration of freedom of speech that The Media Institute created in 2005 and has championed ever since. Events this week included a Media Institute awards banquet and a panel at the Newseum delving into whether America still has the same commitment to freedom of speech that the country's founders envisioned.
Coming one day after the last presidential debate, politics were top of mind. "This year's presidential campaign presents particular challenges because neither of the candidates have particular regard for the First Amendment," notable First Amendment attorney Robert Corn-Revere said during Thursday's Newseum panel. "Both announced in their own way, on their own particular issues, their desire to appoint justices to the Supreme Court that would weaken precedent supporting free expression."
John Seigenthaler, former news anchor for NBC, MSNBC and Al Jazeera America, also expressed concerns about the political environment. But it's not just this election, with Seigenthaler faulting the Obama administration for going after journalists and attacking what they do. As for this year's presidential hopefuls, "Hillary Clinton is not the most transparent candidate as we've seen in her campaign. She just hasn't held press conferences in months and months," he said. "Then you have Donald Trump, who calls journalists sleazes and really, I think there are many of us who are concerned that a Trump administration would [hurt] our First Amendment and free press rights."
It isn't all doom and gloom. First Amendment scholar Rodney Smolla said America is in its fourth decade of robust protections for free sppech and anxiety about limits are exaggerated.
FCC Republican commissioner Ajit Pai accepted The Media Institute's Freedom of Speech Award at the group's annual banquet Wednesday in Washington, D.C. "Honestly, I don't believe that I've done anything special to merit this honor. In my view, anyone who has the privilege of serving at the FCC—any preacher with a pulpit, if you will—has the duty to speak out whenever Americans' First Amendment rights are at stake," he said in his acceptance speech.
Pai has certainly spoke out at the FCC on several issues from net neutrality to the scrapped-Critical Information Needs study in which the FCC was to study how news media make editorial decisions. He used his speech Wednesday night to express fear about the risk of losing free speech on college campuses. After running through several college examples, he cited a 2015 Pew Research Center study that found 40% of millennials agreed that the government should be able to prevent people from making offensive statements. Corn-Revere expressed similar concerns during Thursday's panel, saying that there are too many public colleges with restrictive speech codes and millennials really need to be taught about freedom of speech. Pai called on elected officials to defend free speech when it is under attack at public universities and said administrators should stand strong against anti-speech activists. "And those outside the academy, from organizations like the Media Institute to individual citizens, should make clear society's expectation that college students will be leaders, not laggards, when it comes to defending our First Amendment freedoms," he said.
The Newseum Institute had its own stats to share from a State of the First Amendment survey conducted in May with USA Today. Among the findings: 39% of Americans could not name a single First Amendment freedom (religion, speech, press, assembly or petition). Notably, the survey also showed that 86% of respondents favored "protecting speech," while just 10% favored limits aimed at "protecting people from hearing things that offend them."
Free Speech Week has included discussions at universities, plenty of social media hashtagging and a Huffington Post op/ed from MPAA chief Chris Dodd that addressed the group's efforts to strengthen free speech in the TV and movie film hub of Georgia.