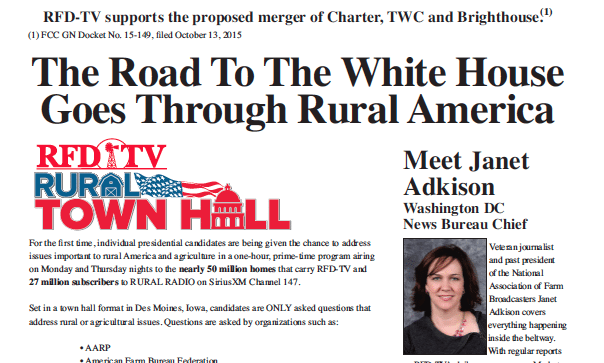 We've told you about DISH, Public Knowledge, Entravision and others who don't like the Charter-Time Warner Cable-Bright House deals and have filed petitions at the FCC to deny it. Then there are those like ACA, AT&T, UP and Aspire who have stopped short of opposing the merger, but have raised concerns. But who is standing up and supporting the deal?
RFD-TV, for one. The rural TV network is a nice backer to have considering that founder Patrick Gottsch told Congress during Comcast-Time Warner Cable hearings last year that the indie net lost almost 400K households after Comcast pulled its distribution in Colorado and New Mexico. Execs from RFD-TV are actually in DC this week discussing the positive relationship the programmer has had with Charter and its support of the pending transactions. It even took out a full-page ad in Wednesday's Washington Post (see a glimpse of the ad above).
"This is a totally different situation compared to the previous takeover attempt as roles are reversed with the smaller rural cable company merging with the larger urban clustered entities," Gottsch said in a statement.
Other companies that are giving the deals thumbs up include Arris and Herring Networks. "Charter's increased scale has the potential to benefit device manufacturers and other vendors by creating a new national platform to drive innovation in Internet and video technologies," Arris said. Herring, which operates AWE and One American News Network, had opposed Comcast's acquisition of TWC. It sees the Charter deal differently given that it doesn't own national programming networks. "The key fact that Charter must rely on the marketplace for an on-going competitive lineup is quite significant for independent networks in the market," Herring president Charles Herring told the Commission. On the other hand, ACA and others have expressed concern about the ownership interests Charter shareholder John Malone has in Discovery and Starz.
PBS Hawaii, the only public TV broadcast station in the state, has joined the chorus supporting the deal at the FCC. "I was reassured by their sense of the importance of smaller and rural communities in meeting community needs in the provision of cable services. I was assured that they will continue to maintain that philosophy and support the importance of public television to our citizens," PBS Hawaii board chair Robbie Alm wrote.