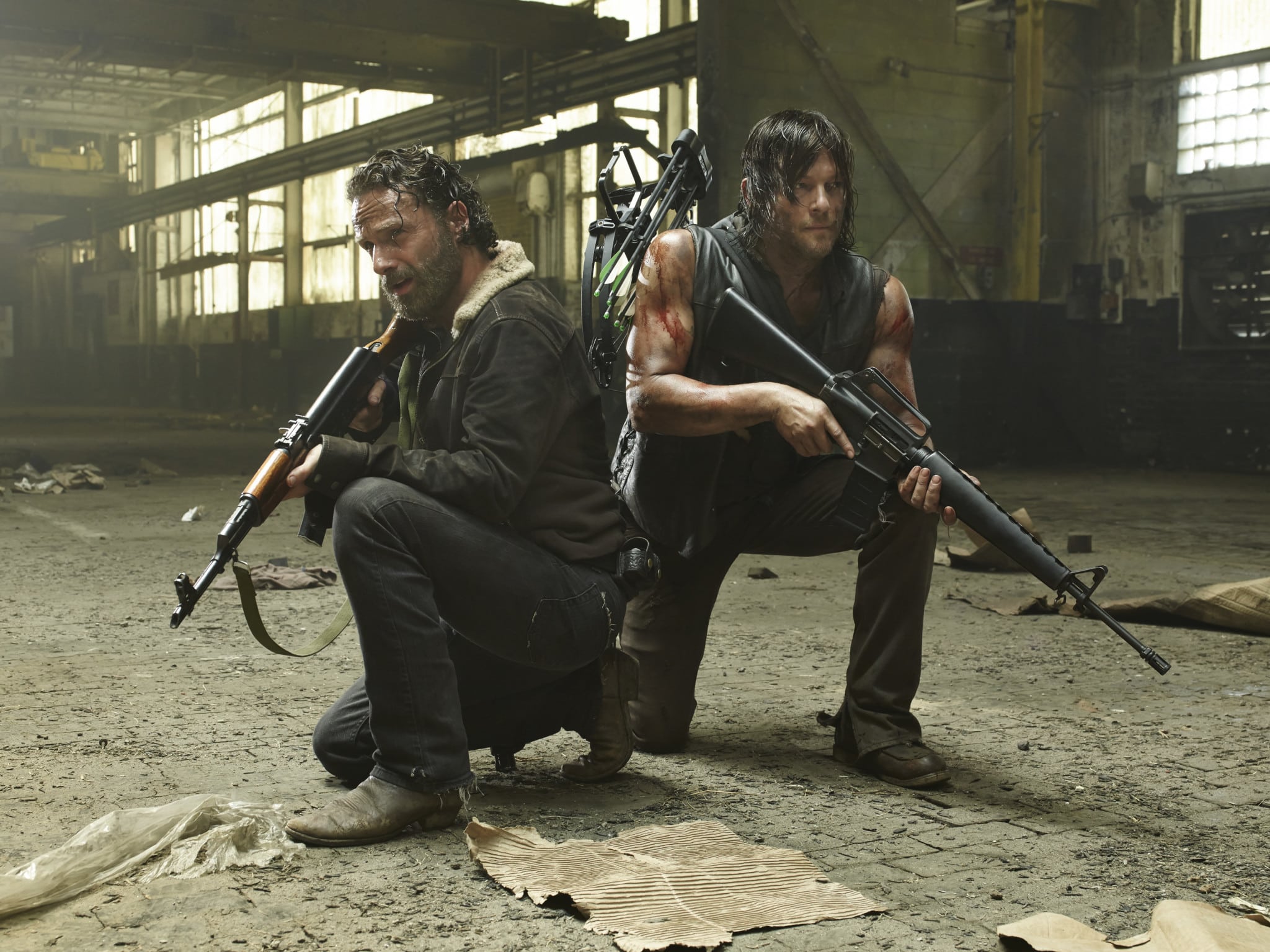 Georgia is proud of being the home of Coca-Cola, peaches and … zombies. Life after death is pretty well accepted in the state, but as part of the Bible Belt, the viewpoint is usually more pearly gates than barbed wire fences. But the dark subject matter of AMC 's "The Walking Dead" (Season 5 premieres Sun at 10pm) hasn't prevented Georgians from embracing the show, which is filmed around the Atlanta area.
I reached out to the governor—the real one, not Woodbury's maniac leader—for his perspective. "Georgia has become third in the nation for TV and film production, and that's also boosted our tourism industry as fans come to see the places they've watched on television," said Georgia governor Nathan Deal (R)." 'The Walking Dead' has a particularly loyal following. We appreciate their business, and we welcome their fans. Once they realize there are no zombies, they probably won't ever want to leave."
As a Georgia native who frequently returns home to see family and friends, I see the show's influence everywhere—from my 75-year-old father warning about road closures because of the undead to my niece who attended a "Zombie School" casting session (she makes an appearance around the 2:16 mark here). And then there are the tourists. Carrie Burns, co-owner of Atlanta Movie Tours, told me about 93% of visitors on their zombie tours of public filming locations are from people out-of-state. The touring company, whose tour guides are Walkers, has seen more than 10K customers, and is gearing up for Walker Stalker Con in Atlanta next week with a guided tour hosted by Emily Kinney (Beth).
I spoke to one regular Walker, who has a full-time job, but enjoys getting to be a part of her favorite show in her spare time. It also gives her a close-up look at the fan frenzy outside filming locations. "People line up and camp out in their chairs. They just want to see something," she said, recalling an overnight shoot with people still outside at 6am. While Season 4 has hinted our favorite survivors may be headed north, Georgia Deadheads can relax as there's no indication filming will leave the state. – Amy Maclean
Program Reviews by Seth Arenstein
"The Affair," premiere, Sun, 10pm, Showtime. At first, "The Affair" seems familiar—a fairly successful family man cheats on his wife. Hang in, however; the pilot's brilliance is in the telling, from different points of view, a la HBO 's "True Detective." Leads Dominic West as the cheating father, and fellow Brit Ruth Wilson as the object of his passion are strong.
"American Horror Story: Freak Show," Wed, 10pm, FX. There was plenty of scoffing when, in Oct '11, FX introduced this anthology drama. More scoffed at FX's attempt to play in the horror genre. With "AHS"'s success, nobody's laughing now, they're too busy brainstorming their own anthologies. Comparisons with earlier AHS seasons are inevitable as fans debate the proper mix of story and gory. "Freak" has both, and, as its title suggests, a bevy of uncommon-looking characters, hanging on as carnival acts in '52. In addition to the stellar duo of Kathy Bates and Jessica Lange, standouts include Michael Chiklis and Sarah Paulson, who should demand 2 salaries (you'll see).
"Chrisley Knows Best," Season 2 premiere, Tues, 10pm, USA. Ya might be scratchin' yo hey-ad after watchin' this Southern-fried reality series 'bout a wealthy family who battle an overprotective dad. It's a hoot, has occasional laughs and Season 1 skewed young, averaging 1.7mln viewers. 'Nuff sayid.