Zeebox Connects 'Wendy Williams Show' with Branded Social TV Platform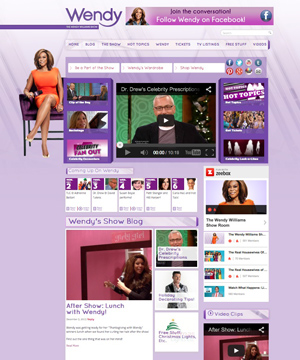 The Zeebox TV Room for "The Wendy Williams Show" is
embedded on the show's website, which builds engagement.
—
2013 has been a pretty important year for social TV. Take the recently announced Comcast/Twitter partnership, which seeks to drive direct content consumption from the social outlet to the television. Then there are companies like Zeebox, typically used as a second screen app for on-air shows, which with its TV Room feature enables discussions of show content after it broadcasts. Under a partnership announced Thursday, "The Wendy Williams Show" became the first to expand Zeebox's TV Rooms feature into a customized syndicated social TV platform dubbed "Wendy's TV World," essentially creating an embedded social space for the brand on its website.
The idea behind TV Rooms, which launched in the summer, is to create "context around the conversation" people are having about their favorite shows, said Jen Kavanagh, Zeebox's svp of strategic partnerships and marketing. Additionally, connections between viewers and talent have become critical as consumers nowadays expect that accessibility, she said. Since launch, thousands of rooms have been created by viewers and content providers. Moving forward, there will be more opportunities to create customized TV Rooms for networks and brands and put them under the companies' own websites, Kavanagh said.
In the case of "The Wendy Williams Show," the show's Zeebox TV Room is embedded on the series' homepage. That means that the show team has the ability to modify the TV Room to reflect things like guests, latest trends or new show content. The goal is to let content providers take ownership of conversations on their shows. The move is also good for brand engagement since "when you have the ability to send people to your own site, engagement levels go up dramatically," she said.
Since November, viewers that visit WendyShow.com have been able to click on a promo that takes viewers directly to "
The Wendy Williams Show Room
," where Wendy has shared gossip about celebrities and conducted fun beauty product giveaways with her viewers. As of December, the terms of the deal have been expanded to include the fully syndicated, multi-show TV Room widget. Fans will be driven to "Wendy's TV World" with on-air promotion during show and via official social and digital channels. Zeebox is working with numerous other networks to potentially launch more syndicated TV Rooms, Kavanagh said. If Zeebox has its way, the future of social TV might mean you'll want to get a room.