YES Network Ups Production of Brooklyn Nets' Live Telecast From Barclays Center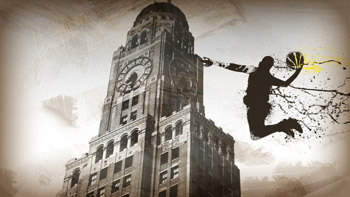 New graphics for the Brooklyn Nets from YES Network
The Brooklyn Nets' opener at home in the brand new Barclays Center was postponed due to Hurricane Sandy. But the folks at YES Network are still primed for that first live telecast from the venue on Saturday, when the team hosts the Toronto Raptors.
Ed Delaney, SVP, Broadcast Operations and Engineering for YES Network, hopes to debut the Nets' new look and feel come Saturday. "From our end graphically, the look and style and feel of show has changed with the team being in Brooklyn," he said. YES has revamped its graphic presentation for the new season and there's a new marketing campaign promoting a hip, edgy feel—from the spots to the graphics to the music. "It's not Jay-Z, but it's urban," Delaney said. Getting the graphics right with just a black and white palate was challenging for the team's graphic artists and designers, he said.
The Nets aren't the most popular team in the NBA, but the network is certainly hoping for a boost in coverage from the move to Brooklyn. YES Network pres Tracy Dolgin told CableFAX earlier this year that it's an opportunity. "A lot of our ad sales growth over the next few years might be coming from the Nets—because you're going from a relatively low base. If we could do ratings that are half as much as the Knicks are doing, it would mean millions and millions of dollars more in advertising," he said.
Delaney said the network plans to cover the Nets games with high production value. It will use the YES-MO camera, which shoots up to 1,000 frames per second and helped Yankees' telecasts win an Emmy this year. In addition, three robotic cameras will assist—one on each backboard and one beneath the scoreboard and suspended over center court.