WICT DC-Baltimore Host 10th Powerbrokers Breakfast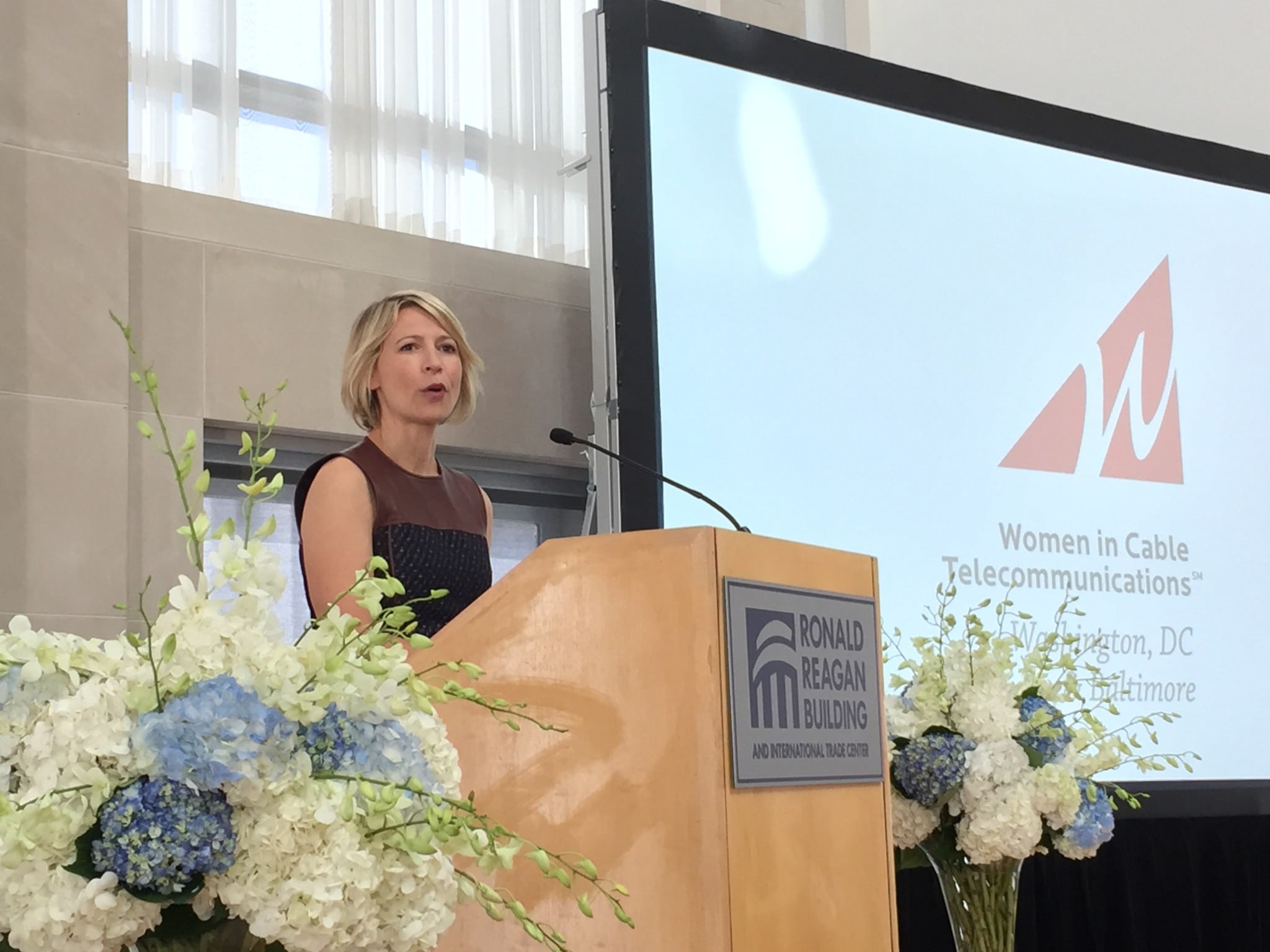 The WICT DC Baltimore chapter held its 10th annual Powerbrokers Breakfast Tues morning in DC, honoring its Touchstones of Leadership Awards winners. Travel Channel host Samantha Brown got the crowd in a celebratory mood. "It's great to hold a breakfast for you, but what I really want to do is hold a night out with you," she told the crowd of mostly women execs.
Former CTAM pres/CEO Char Beales provided the morning keynote on leadership. She began by noting that there's 154K books on Amazon about leadership. "That makes this talk a little daunting," she joked. Beales' decided to concentrate on the leadership trait that she put the most focus on: trust. "It's really the building block for everything else," she said, encouraging attendees to find those they can trust, be trustworthy themselves and trust themselves.
Nat Geo Channels CFO Julia Rao received the chapter's Geraldine Laybourne Fearless Award. The child of immigrant parents, Rao said her parents taught her what being fearless meant. "To be fearless doesn't mean you're not afraid… It means you're brave enough to jump in." Communicate Award winner Elizabeth Hillman, Discovery Comm SVP, communications, said to "fake it until you make it," discussing how she dove into challenges with the support of others. Inspire Award recipient Trish Johns Scanlon encouraged mentorships. "I think we all aim to make a difference, no matter how big or small." The Connect Award went to Alicia Daugherty, vp, project management for Comcast's Beltway Region. She talked about overhearing two WICT members on an elevator one time and realizing she needed that support network and connections. This year's Public Policy Award recipient was Grace Koh, House subcommittee on Communications counsel. Koh said she got the chance to write legislation and took off running with video reform.
"Keep running with video reform," said Time Warner Cable chief govt relations officer Gail MacKinnon, who presented the Glenn Britt Emerging Leader Award to TWC federal affairs VP Cinnamon Rogers. Rogers has worked closely with key policymakers as an advocate for the cable industry for the past 15 years. In addition to TWC, she's had legislative affairs roles at Discovery, Time Warner and NCTA.