Univision Execs Tout Digital Integration at 2012 Upfront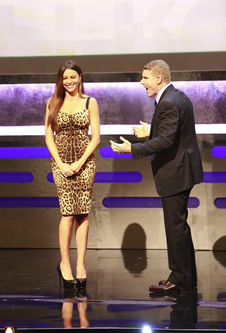 "Modern Family" star Sofia Vergara with Univision
pres, ad sales & marketing David Lawenda

"I might work somewhere else, but Univision is my home," "Modern Family's" Sofia Vergara told a theater of advertisers in a surprise appearance at the company's 2012 upfront in NYC. Though the starlet resides at ABC currently, she used to star in Univision's telenovelas. Vergara's comments echoed the upfront's theme, "Latinos Live Here."
Univision pres, ad sales & marketing David Lawenda spoke of the company's 73% market share of Spanish-language television and beating NBC 195 nights of the year in primetime. And to the delight of the entire theater, he broke into song and dance on stage with a crowd of actors embedded in the audience—a performance which warranted Vergara to observe, "You don't strike me as Latino."
Joking aside, Lawenda spoke about the recently announced Starcom USA/Tapestry deal, which he called the "largest total market partnership in our collective history." And on a conference call Friday for press prior to the upfront, pres & CEO Randy Falco talked up the company's digital presence, noting that the "traction the newfront concept has gotten this year" exemplifies its importance. Digital integration, he added, is in "everything we do this year." Moreover, 94% of Univision viewership is live viewing. "We're an anomaly—in a good way," he said.
And at the upfront, Lawenda touted this as one of the company's advantages over its competitors, along with having young consumers (the median age is 36), mostly live viewing (94%) and a highly engaged, mobilized and largely unduplicated audience. "Univision is no longer a niche," he said.
The clearest example of Univision's digital integration is its new UVideos Digital Network, a video platform serving as a portal for video content from all of Univision's TV nets. Largely through authentication, viewers can watch content through game consoles, smartphones, tablets and iTVs. It's currently in beta and scheduled for a launch this summer.
Morever, telenovela fans can expect to see 3 brand new webnovelas co-produced by Televisa and Univision Studios via the UVideos platform. Univision Networks pres Cesar Conde called it the "digital front door of long and short-form content across all 12 networks." That includes the company's 3 new cable nets, tlnovelas, Deportes and FOROtv, which now will be carried by AT&T in addition to DISH. Conde added that sports programming on Deportes will increase from 1,700 hours to 10,000 hours, and the 2014 FIFA World Cup in Brazil will be aired live and in primetime.
Conde also alluded to Univision working with Facebook to allow viewers to access content and the upcoming launch of "new genre-specific broadband channels" in partnership with various broadband networks.