TV's Indie Fest Returns This Fall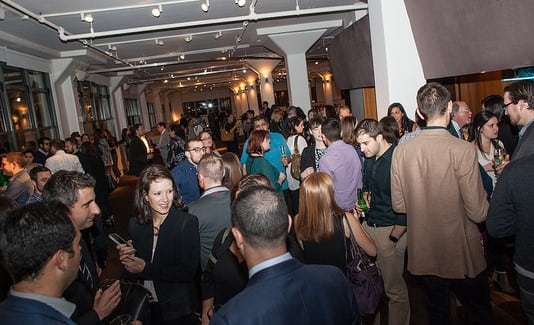 The New York Television Festival, taking place this year October 24-29, offers an alternative to the traditional television development model by directly connecting top independent creatives with production companies in person. Through a plethora of screenings, premieres, panels and networking events, this streamlined process allows independent voices to showcase their talent to networks including NBC, Fox, Comedy Central, A+E and more. In 2015, the festival facilitated 20 development deals, making it an incubator for under-the-radar talent and a chance for networks to examine into new voices.
NYTVF has been the launching point for series such as "Animals" on HBO, "The Jam" on Netflix and "No Tomorrow" on The CW Network. As such, it has increased its partnerships over the years—and that has in turn upped the number of development deals.
But it didn't start with its current level of success.
Back in 2005, founder and director of the NYTVF Terence Gray was inspired by the independent film festival model and so decided that he wanted to do the same for television. 26 pilots were showcased in the festival's first year, but just 2 were developed. In 2007 Gray decided the festival needed to work more closely with networks to create even more development opportunities. "Around our third year, we had a pivot," Gray said. "We understood that each network has its own brand." He decided each network must provide a creative brief prior to the festival that outlines their programming desires.
Gray and his team also created an advisory board filled with networks' top executives to better understand first-hand what networks were looking for. The board initiated partnerships with networks and the festival. If you're a partner you get the projects six weeks prior to the fest, which facilities meetings with artists and networks beforehand and creates a more efficient development and decision process with the end hope of sealing a development deal. "Granting early access to content supports our overarching idea on how to serve the artistic side of the industry to the best of our ability," said festival director Erin Day.
One satisfied partner is truTV. In its first year attending NYTVF four years ago, the network struck a development deal with "Rachel Dratch's Late Night Snack," a short-form comedy that returns this fall to the network. "The festival is an opportunity to meet new talent who know content," said evp and head of programming Marissa Ronca. She believes NYTVF is an opportunity for truTV to reach a larger, untapped creative community that normally would not get their attention via traditional avenues. "Terence is a great curator and attracts really interesting people," Ronca said. "We get exposure to some really creative, savvy people." She also credits Gray's commitment—he personally reaches out to networks—and extensive networking skills to the festival's staying power. "Terence is the one who connects great creators with networks," Ronca said. "You can really tell that Terence cares. You feel like you get a lot out of the festival."
Another focus at NYTVF is giving a platform to a variety of diverse voices. Last year, 333 official artists attended the NYTVF with more than 60 free events open to the general public during the week of the festival. 59% of this year's projects have a woman in a core creative role, 23 selected pilots have people of color, and 9 selected pilots have LGBTQ themes or narratives.
NYTVF's evolution continues as 2016 marks the fest's first Scripts Competition, a writing initiative that focuses on half-hour comedy scripts. Out of 995 submissions, 21 scripts were officially selected. "Comedy is one area of the industry where there has been a pervasive shift," Gray said. "Networks are taking a risk now on comedic voices and we've embraced that." Similar to truTV, IFC exemplifies a network that has welcomed newcomers on the comedy circuit. It recently announced a collaboration with the fest to stream seven comedy projects selected from previous years' Official Selections to their short-form online comedy hub, Comedy Crib. "NYTVF continues to be a wonderful place for IFC to find emerging talent and projects to develop, furthering IFC's commitment to smart, 'slightly off' comedy," said IFC original programming svp Christine Lubrano in a release. As an Official Digital Development Partner of the NYTVF, IFC will be naming at least one winner at this fall's fest to their "Comedy Selects" opportunity, which gives creatives a chance to have additional meetings with the net, a cash prize and a featured sport on Comedy Crib.
Expect to see an even more diverse community of talent in years to come. "We're committed to giving an opportunity for all voices to shine," Gray said. 63 officially-selected pilots and series will be showcased at this year's festival from October 24-29 in Manhattan.