TV One Continues to Read from the Script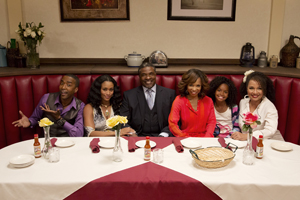 The cast of "Belles" on set: (L-R) Miguel Nunez, Tami
Roman, Keith David, Ella Joyce, Nadja Alaya, Ella Joyce
On Friday, TV One debuted its 3rd original scripted series, "Belles." And it believes this is the right path. Last fall, the net's 2nd original scripted "The Rickey Smiley Show" was the channel's highest premiere of any program ever, with a 1.08 HH rating. Belles didn't debut as strongly, with a 0.4 rating for live +3 (a 2nd ep pulled a .45 for live +3), but the net is patient.
"For me, as a programmer, it's exciting to see where TV One is now from where it was just a few years ago," said Maureen Guthman, svp program strategy and acquisitions. "We've expanded the number of original hours we're doing, and it's not just a quantity conversation. It speaks more to the quality and depth of the content we're producing."
Half-hour comedy "Belles" was co-created by Ed. Weinberger ("The Cosby Show," "Amen," "Taxi"), and focuses on widower Big Bill Cooper (Keith David) whose wife Belle passed away two years ago. She left him with an upscale soul food restaurant to run and two headstrong daughters. "Love That Girl," which bowed in Jan '11, was the net's first foray into scripted.
Just four years ago, TV One's lineup was more about "black people cooking, black people decorating their house, and now we've reached a point where are offering is a level deeper," she said. That's a shift from TV One's original brand strategy, which was to go after lifestyle programming for the African-American audience. Now, the net has shifted more to general entertainment bent with a "more targeted and thought provoking" focus, Guthman said. The idea is to go beyond one-dimensional characters. In addition to the comedy series, TV One has launched shows like "Find Our Missing" and "Save My Son," which profiles the struggles of African-American families to save their sons who have fallen victim to bad influences and bad choices.
Other nets have "African Americans who are fighting and pulling each other's hair and are really shrill with each other and unreasonably argumentative…. You won't find that on TV One," Guthman said.
While TV One is committed to scripted, what's next is still a bit fuzzy given a major leadership shake-up in Oct. The net announced Wonya Lucas would step down as pres/CEO a little more than a year after taking the job. Radio One pres/CEO Alfred Liggins added oversight of TV One to his job. Radio One owns 51% of the net, with Comcast-NBCU also an investor. On Mon, NBCU announced a restructuring that moves TV One and all cable entertainment nets under Bonnie Hammer.