Turner Pushes Shorter Ad Breaks, New Shows At Upfront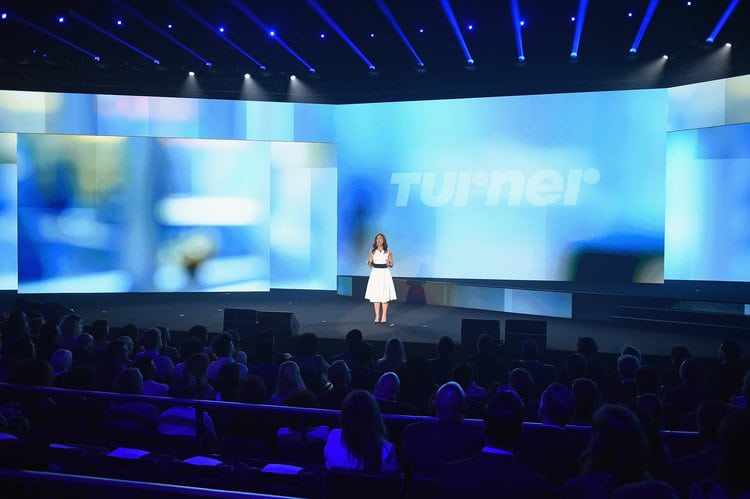 Turner President of Ad Sales Donna Speciale issued a challenge to advertisers during Wednesday morning's upfront presentation.
"We're doing our part," she said. "Now it's time for you to do yours."
Media companies all implore brands and agencies to buy ads during their upfront presentations, but Speciale's firm declaration stood out from other pitches. She pointed to a number of recent measures Turner has taken to make advertising more effective. Those include limiting commercial interruptions on truTV and TNT, introducing audience-based selling through its AudienceNOW program, and forming an alliance with Fox and Viacom to create OpenAP, a platform allowing buyers to target specific audiences across the publishers, featuring independent measurement.
Speciale and Chief Creative Officer Kevin Reilly both claimed viewers have responded positively to brands with inventory during limited-ad timeslots, citing increased brand awareness, deeper engagement and four times as many sales compared to regular breaks. Limited-ad slots will now make up 15% of total inventory on TruTV, which served as the guinea pig for the shorter breaks, and TNT will adopt the format for its original dramas beginning later this year.
In terms of programming news, TNT and TBS took center stage. Reilly, who took over both nets in late 2014, pointed to the coming year as one that will redefine them.
"Brand perceptions don't change overnight," he said. "But we have arrived."
Looking to build on momentum from original comedies like "The Detour" and "Wrecked," TBS has greenlit three new series, most notably "Miracle Workers." The scripted series stars Daniel Radcliffe as an angel and Owen Wilson as God. The net also revealed that Tracy Morgan's previously announced series will be titled "The Last O.G." A trailer, which featured Morgan returning to Brooklyn, only to see it gentrified and overtaken by hipsters, played well with the New York crowd. TBS will also introduce a block of alternative weeknight programming called Super Deluxe, based on a Turner-owned digital content brand.
TNT, meanwhile, highlighted its upcoming slate of original dramas and greenlit two new docu-series. Reilly billed "The Alienist," a turn-of-the-century psychological thriller slated for a January premiere, as "the biggest project we've ever undertaken." A lengthy trailer for the series, which will star Luke Evans, Daniel Bruhl and Dakota Fanning, closed the presentation, a sign TNT is betting on the drama as its bingeable hit.
Not A Field Day: Turner's upfront was quiet on the sports front this year, even in the wake of Turner reportedly inking a three-year deal in February to air the UEFA Champions League beginning next year. While Univision, which snagged the Spanish-language rights, trumpeted the acquisition at its Tuesday presentation, Turner remained tight-lipped. Still, Turner Sports COO Matt Hong following the event discussed the company's approach to live sports rights, saying it is seeking sports with a "growing younger audience for digital" in addition to linear TV viewership. Soccer certainly fits that criteria. He added that while Turner remains interested in picking up sports rights, it will be "judicious" given its lack of a 24/7 sports net.
In the Name of News: Leave it to Turner's news network to stage the most dramatic portion of the presentation. With the lights down in the theater, a group of CNN anchors and reporters took their places on the stage as audio of White House Press Secretary Sean Spicer, President Trump, and others dismissing CNN's reporting as "fake news" blared loudly. The journalists then took turns reaffirming their commitment to honest, impactful reporting and willingness to stand up to the administration. Anderson Cooper said, "Now more than ever, our mission is clear: to find the truth, check the facts, report the story and hold people of power accountable." Another declared, "We will not stop, and we will not take no for an answer, but we are not the opposition."