Turner's David Levy on Innovation in Cable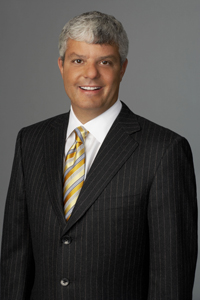 David Levy
President of Sales, Distribution and Sports
Turner Broadcasting System
The biggest innovation in cable over the last year has been…
The opportunities around social television. Connected TVs and multi-screen apps that offer experiences like interactive gaming will continue to grow, especially with the younger sports fans. We are learning how to give fans a new way to interact with our telecast without alienating casual fans. The ability to interact and compete socially, nationwide, in real-time delivers a whole new engagement for fans. It rewards people for watching and competing without penalizing viewers who don't. This is going to be a significant platform for our sports telecasts.
Why isn't TV Everywhere … everywhere yet? It's pretty close to getting there, and I think it's being adopted faster than other technology initiatives that came before it such as VOD, DVR and HD—and certainly way ahead of 3D. Today nearly 90% of the TV viewers already subscribe to cable, satellite or telco video service. The next step in this evolution is for the industry to collectively work to together to educate the consumer on the benefits of TVE and making easier for them to register.
The one thing I tell my kids about success in life:
You don't know until you try, and if you don't try you'll never know.
Bands I would actually go see live:
The Allman Brothers or the Rolling Stones.
My favorite vacation spot:
Skiing with my family in Telluride.
My favorite iPad app: Bleacher Report's Team Stream App


My guilty television pleasure is: "It's Always Sunny in Philadelphia"