Training the Boomers, X'ers and Millennials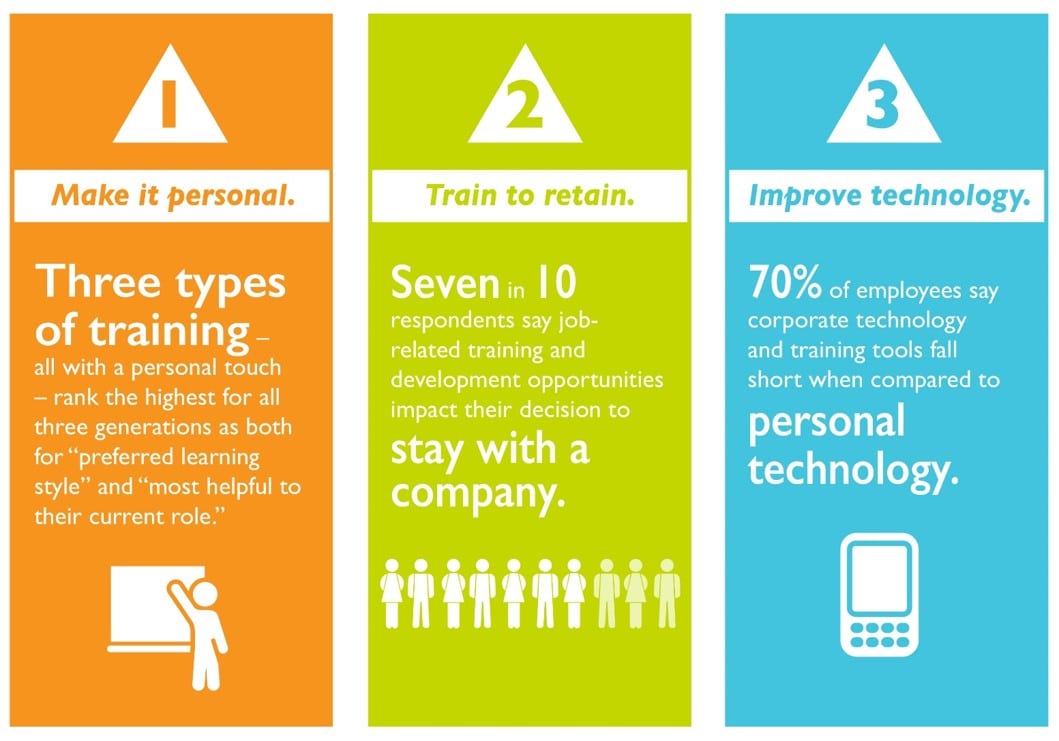 A millennial, Gen X'er and baby boomer all walk into a training room… It may sound like the start of a joke, but it's reality for companies today. There's been a perception that these multiple generations all need something different in the workplace, but research from Jones/NCTI, which provides training specific to the cable industry, found several similarities between the generations—chief among them being the desire for training.
"Regardless of what demographic you fall into, everyone is telling us that training really matters," said Jones/NCTI president and chief product officer Wayne Applehans.
The preferred styles of learning cited by all generations were one-on-one mentoring, traditional classroom learning, team collaboration and online courses—with mentoring at the top. The findings come from a national survey of 422 full-time and part-time employees during the month of January, which Jones/NCTI presented at NCTC's Winter Conference.
While the similarities between the generations are the topline takeaway, there are some nuances in learning styles. This is key since 80% of respondents across generations said it's important or very important that their company provides training options to fit their learning style. When it comes to online training, millennials lean more toward "gamification and strategy-based learning and things of a competitive nature, where the older group are probably going to prefer more traditional online or blended learning," Applehans said.
What could game-based learning look like? Think more interaction on phones and tablets, where employees can see their competitive rankings and perhaps win badges. Take Jones/NCTI's Cable Jeopardy, which today is a physical game it travels around to different regions to host, with the finalists working their way to the championship round at SCTE Cable-Tec Expo. "Millennials may prefer to play Cable Jeopardy on their phones," Applehans said, with the company working towards that. "Adding an element of competition, strategy and more of a social environment vs you and your computer taking an online course."
Other findings:
• Seven in 10 respondents said job-related training and development opportunities impact their decision to stay with a company.
• According to 70% of employees surveyed, companies are falling short when comparing corporate technology and training tools to personal technology. Also, employees say more companies need to provide more sharing, collaboration and training tools in order to better support them in their current roles.
Jones/NCTI's study comes at a time when there have been multiple news stories dinging the industry for poor customer service. While most of the company's work is geared toward field tech operations, it does have the call center element included because it's part of the frontline. "We've got to start thinking about customers at the center of the experience between field tech ops, dispatch and what's happening in the call center," Applehans said. "Customer-centered care is becoming a really big challenge because the customer wants this seamless experience regardless of how they make the inquiry. They just expect that dialogue between the call center, dispatch and field tech ops are all on the same page. The overwhelming response we got during [an NCTC panel] was you really have to help the call center to think differently about the customer problem. They almost become the field tech in that environment, and they've got to understand what's inside a home and the connected experience that's happening there. And not just look at this as an upsell opportunity on a triple-play."
You can read the entire white paper here.