TLC Talks Openly About Sex, With a Laugh or Two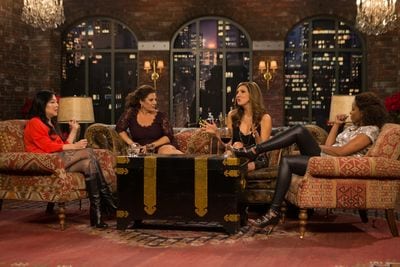 You need to go back nearly 6 years to find a cable series where sex was the featured topic. Each Sunday night Oxygen ran "Talk Sex with Sue Johanson," featuring then-septuagenarian Dr. Sue sitting on a relatively colorless set responding to caller's questions and expounding on all matters of sex. Her manner was straightforward and largely clinical, the result of years as a sex therapist, nurse and teacher in her native Canada and the U.S. To keep things light, Dr. Sue occasionally peppered her answers with a folksy sense of humor.
The pendulum has swung very far with TLC's new "All About Sex," which runs in the sexy timeslot of 11pm, Saturdays. While its talent roster also includes a sex therapist, Dr. Tiffanie Davis Henry, known as Dr. T, the similarities end there.
TLC's set for the series resembles a den: mood lighting, comfy couches and wine is flowing. The four women of All About Sex host a TV show in the midst of what seems to be a late-night party; they just happen to be talking about one of their, and America's, favorite subjects. And unlike Dr. Sue, who favored somewhat drab professional attire, the ladies of All About Sex are stylish, dressed for a night out.
Swinging for the Picket Fences
"I'm living vicariously through other peoples' dating and sex lives," says one of the co-hosts, Heather McDonald, a writer, comedian, mother and wife of 14 years. "I'm obsessed with being single," she says, "although I wouldn't know what to do out there [on the dating scene.]" McDonald also confesses to holding a traditional view of married life, yet she has a healthy curiosity and is "very open-minded" about what other couples do. "I don't want to go to the swingers' party, but I want to know everything about it. Which partner suggested it? What do you have to bring? I mean how weird is it when you run into someone you've swung with and you're in the carpool line at your kids' school?"
Word Play
Where does our interview go from here? 'How much can you actually say on the show?' is the only question that comes to mind.  "Most of the words I used in those jokes we can say on the show," McDonald says. Dr. T agrees.
Behind the fun, though, there is another layer. "This show is revolutionary for us as women and for television," says Dr. T, whose career in broadcast and cable gives her opinion gravitas. "I've worked on many shows and given advice about sex, but not to the extent that I am doing here [on All About Sex]…we don't have to go through 15 meetings with [lawyers] to find out if you can say orgasm…when you say vagina it won't be bleeped out."
"I think our viewers are representative of who we are as a panel," and will be curious about sexual practices and have plenty of questions about sex, Dr. T says. The other co-hosts include the comedian Margaret Cho and the actress, wife and mother Marissa Jaret Winokur.
Ed Note: Stay tuned for part 2 later this week on Cablefax.com, which touches on the biggest issues about sex for women and whether men will watch the show.