Time Warner Cable to Launch Papal Visit Channel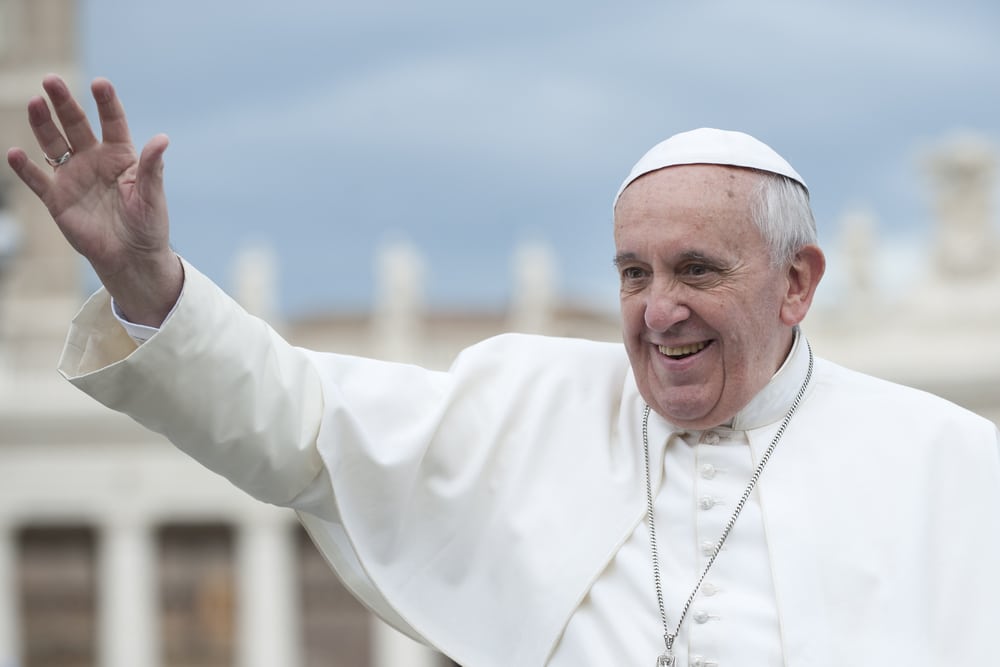 When Pope Francis touches down on U.S. soil for the first time during his papacy next week, millions of Americans will want to witness and discuss the historic event. That was the impetus behind TWC News NY1 launching a week-long, dedicated Papal Visit Channel for basic cable customers. Coverage will commence with a Sunday Mass at Havana Revolution Square in Cuba on September 20. It will then follow the Pope to the White House, New York City and Philadelphia. We spoke with TWC news and local programming svp Steve Paulus about the genesis of the channel and what's in store for the local news channel and TWC viewers across the country.
Have you covered papal visits before?
Believe it or not, it's the third papal visit since we've been on the air. This year we're going through the whole planning process on how to cover this extensive visit… Washington, New York, Philadelphia, and we're going to be in all of them. We explored the option of actually launching a second channel for the duration of his visit. And that would enable us to actually carry every event in its entirety for those people who want to see it.
Our fundamental issue is that we are a news channel and we have an obligation to provide sports and weather and traffic and breaking news. And in times of extensive wall-to-wall coverage of a big event, sometimes it's frustrating for people to turn to us for the standard news coverage and they can't see extended live coverage.
So we made a proposal to our parent company Time Warner Cable to see if they had the bandwidth to provide us with a second channel for the duration of his visit. We were very pleased to not only get a positive response to that but the company also decided to put it on the full footprint, so it's going to be seen in every Time Warner Cable area. And Bright House Networks also added it, so you'll see this channel actually in Florida and the Bright House properties in Alabama, Michigan and California. It grew from a second channel in New York City to a whole separate special event channel to be seen nationwide.
Did viewers come to you and suggest this? How did you know there'd be enough interest in a week-long channel?
[With channels all over the country, some in remote places], it occurred to us that there are Catholics everywhere. If we were doing this in New York it would be a great opportunity to provide that coverage in other markets. With markets like Texas and California, it would be perfect for us to do that.
Have you created other dedicated channels?
It's the first time that we've actually done a second channel for a specific event of this duration. For the 9/11 Memorial we got a second channel in New York City and also during the Democratic and Republican national conventions we actually got a second channel for one or two nights when we wanted to televise more programming from the convention. But it's the first time that we've actually gone beyond the New York City footprint like this.
Are you going to Cuba, too?
Actually the Cuba [coverage]… is being provided to us… with an international event like this there's actually… pool video provided. We basically walk into the pool and we use content from Washington, from Philadelphia, from Cuba, as well as from New York. One advantage is that with Bright House, our sister stations in Tampa and Orlando are actually sending reporters to Cuba, and we hope to be getting some content from them while they're in Cuba. We're still working on that transmission and how we can get that content back. For the cable portion we'll actually have the entirety of the mass in Havana as well as any coverage that we can get from our colleagues at Bright House. We'll have some people on the ground in Philadelphia, Washington and New York City… we have a Washington D.C. bureau that services all our new channels, and those guys will be servicing [that location].
What have been the challenges to putting all this together?
There are a billion details… we've been working on this ever since it was announced, so seven months ago—and we have one staffer full-time on it and has done nothing but plan for this trip. We put in a credential request in months ago… it's just a logistical nightmare. Luckily we've been through it a few times. What's interesting about this time is that you have TV channels in Texas and the Carolinas… what they'll be doing is they'll be getting the local perspective from residents of Texas and the Carolinas, so all our news channels will have the hyper-local content that they're used to and if people just want to see the mass, they can change the channel and watch the entire mass.
The conundrum that always faces us as 24-hour news channel programmers is, when do you do live events and when do you go back to the news programming? By having the ability of the second channel to point people to… we're having a mass that could last 2-3 hours… they can point people to the special events channel… That said, I guarantee you that when he stops in New York City, New York will probably carry most of it if not all of it in its entirety since the Pope will be before hundreds of thousands of people. He's visiting the World Trade Center site. We'll be providing full, wall-to-wall coverage on NY1 for all of those events.
How are you marketing the channel?
We're doing social media, so we've been in touch with the diocese in all of our local markets. They have a very effective way of reaching their parishioners. It's kind of new for us to utilize that kind of resource. Time Warner Cable will do e-blasts to its subscribers, we're running some cross-channel inventory… but beside the cable channel we've also begun programming local video on demand cable content beginning in July and we've been able to cross-promote our cable channel for last two months. For a news market it's easier because we have the news channel to promote that content.
Is part of the goal to show the parent company and also channels across the country that you can take on this kind of thing? Do you think you'll do it again with another big event?
It's a great opportunity for us to take advantage of the resources of the parent company. They have the bandwidth to provide us with this resource and we think it's just a great opportunity for the rest of the country to see how good Time Warner Cable news programs can be. A couple notes on the programming front: On the channel every night that's here we're going to be doing a whole recap show starting at 10pm, so if people miss anything throughout the day and want to catch up on what happened they can watch it at 10pm eastern time. We're also expanding the NY1 show that we do called "The Call." People call in and there's social media interaction where people can actually talk about issues of the day. For that week, Monday through Friday, we're making it all papal related… and people across the country can talk about what they've seen.
It's a great experiment for us. I'm fully confident that we're going to do [pull it off] with flying colors. Looking ahead, there's the national political conventions, which we could probably provide a local focus that you can't get anywhere else, so that's something we're certainly thinking about for next summer. We haven't raised it with anybody yet, but it's in the back of our minds. If this works, it could be something that we do more often. Even if it's a local situation, like the 9/11 Memorial is a perfect example… Time Warner Cable actually put NY1 on nationally right after 9/11… so it's an opportunity for people to see an historic event like that. At the same time we know who our audience is and we can program specifically for them. That kind of coverage with a local focus is what we're best at. This could be a great opportunity to show how good we are and to lay out a blueprint for the future.
Ed Note: For those looking to tune in: The Papal Visit Channel will be on channel 199 for TWC customers (but channel 299 in Illinois, Indiana, Kentucky, West Virginia and parts of Ohio). For Bright House Networks, it's channel 199 in SD and 1212 and 1341 in HD in Tampa, Orlando, Birmingham, Alabama, Indianapolis, Detroit and Bakersfield, California.
UPDATE: After press time, we learned that Cablevision will now be carrying the channel as well, on channel 206.