They're Tanned, They're Rested and They're Back – Watergate Redux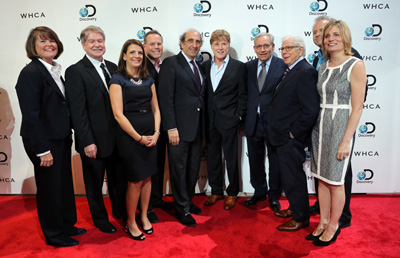 ON THE RED CARPET: Eileen O'Neill, president/GM, Discovery Channel;
John Hendricks, founder/chairman, Discovery Communications; Nancy
Daniels, EVP/Production & Development for Discovery Channel; David
Zaslav, president/CEO, Discovery Communications; Andrew Lack, CEO,
Bloomberg Media Group and executive producer; Robert Redford,
executive producer; Bob Woodward, author, All the President's Men;
Carl Bernstein, author, All the President's Men; Peter Schnall, director,
All the President's Men; Laura Michalchyshyn, executive producer,
All the President's Men
—
The iconic Watergate reporting team, one Hollywood counterpart and members of the Nixon White House were out in force at Washington, D.C.'s Newseum last night for a preview of "All the President's Men Revisited." The Robert Redford-driven 40th-anniversary documentary backed by Discovery Communications re-examines the Washington Post-reported events that took down former president Richard Nixon.
Redford, current and former Washington Post reporters Bob Woodward and Carl Bernstein, former Washington Post Executive Editor Ben Bradlee and others associated with the film—which will premiere April 21 at 8pm ET on the Discovery Channel—walked the red carpet and spent time talking to invited guests prior to the showing, which was hosted by the White House Correspondents' Association (WHCA). After its initial showing on Sunday, "All the President's Men Revisited" will roll out to some 200 countries worldwide.
Noted current WHCA President Ed Henry (Fox), "Robert Redford did for independent film what Woodward and Bernstein did for journalism." Redford had been encouraged to do the Watergate retrospective "for America and for the world," and he heeded the call from Discovery Communications pres and CEO David Zaslav when it came. While admitting that his dark view of politics hasn't changed much since the early 1970s, Redford said, "How we learned the truth about Richard Nixon fascinated me."
The resulting feature includes clips from the original "All the President's Men" (released in 1976 and adapted from the Woodward/Bernstein book of the same name) along with historic news footage; snippets of the famed Nixon Oval Office recordings; and remembrances from Dustin Hoffman (who played Bernstein), Rachel Maddow, Tom Brokaw, Jon Stewart, actor and former Tennessee senator Fred Thompson, Mary Matalin and James Carville. In addition, you hear from Nixon acolytes Ben Stein, John Dean, Egil "Bud" Krogh, Alexander Butterfield and Hugh Sloan.
What Redford refused to address in "All the President's Men Revisited" was the upfront question: Could such a train wreck like Watergate happen today? "The film is not for today," he said, following the screening. "It is to look back at then. By showing things the way they were, you leave it to the audience to decide if it could happen again."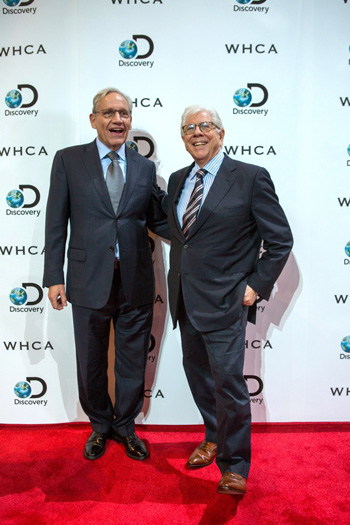 THE STARS OF THE SHOW: Bob Woodward and Carl Bernstein.
With the tweets, blogs, instant cellphone postings and the constant feeding of the 24/7 news beast, could such a story like the Watergate break-in be covered today as well as it was in 1974? Probably not, and both Woodward and Bernstein pointed to reporting mistakes that were made by cable news this week following the Boston bombings.
Noted Bernstein, "Robert Redford made a movie about what reporting really is. Tweeting won't replace that. The last thing in most newsrooms today is to put reporters on anything in depth." He added that news readers and viewers have "much less interest in the best obtainable version of the truth." Leaning in, Woodward said, "There's less of a premium put on investigative reporting."
And how was it that the super-secret identity of Deep Throat wasn't revealed until 2005, when former FBI Associate Director Mark Felt Sr. himself owned up to the distinction? Chuckled Bernstein, "None of us told our ex-wives."