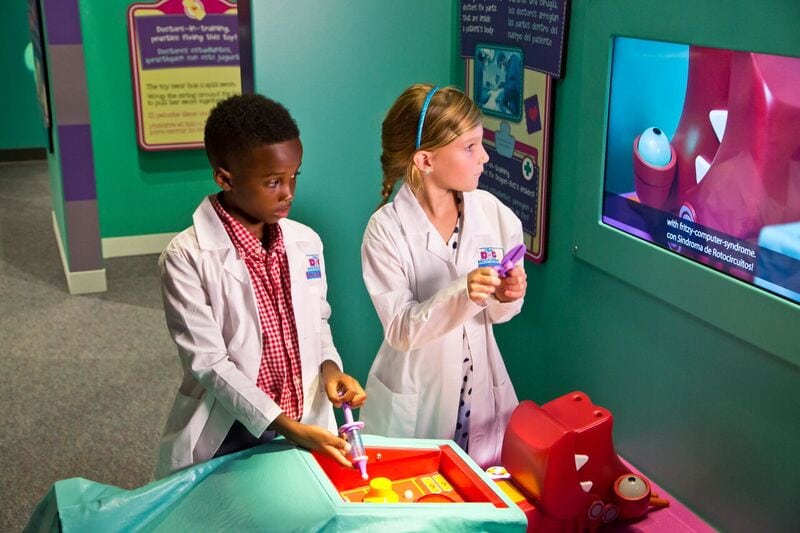 The Peabody Award-winning Disney Junior animated series "Doc McStuffins" will come to life with the first-ever touring museum exhibit, "Doc: McStuffins: The Exhibit," Saturday at the world's largest children's museum, The Children's Museum of Indianapolis. The bilingual (English/Spanish) exhibit will travel to other museums throughout the country in 2017.
Sponsored by Riley Children's Health at Indiana University Health, the exhibit will engage kids 2-7 in a variety of hands-on experiences to teach healthy habits as they go on a "feel better experience" to become "doctors in training." Children will make their way through Doc's backyard clinic and the McStuffins Toy Hospital as they "scrub in" and report to the "Operation Room" where they can use Doc's tools to heal a toy bear. The idea is to for kids to have fun while learning—and to hopefully lessen any apprehension about a doctor's visit.
The Disney Junior series follows a six-year-old girl who heals toy animals in her backyard clinic and McStuffins Toy Hospital. "Doc McStuffins" has received global praise for teaching the importance of healthy practices to young viewers and has inspired the movement "We Are Doc McStuffins." For more information on "Doc McStuffins: The Exhibit," follow the link here.