The Cable Show's Own 48-Hour Film Fest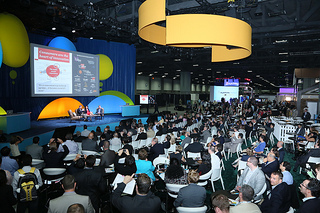 The Imagine Park area at NCTA's The Cable Show.
—
If you cruised by the
Cable Show
's Imagine Park area in Boston two years ago, you might have noticed the
app developer "hackathon" taking place
. Teams of students from across the country had 48 hours to develop an app, which was then presented and judged by a panel of industry judges. This year NCTA is embracing the youth element again, but it's taking a page from the proximity of Tinseltown.
Come late April, three teams from local Los Angeles universities will have 48 hours to complete 4- to 7-minute films in what NCTA had dubbed the "Imagine Film Challenge." The Cable Show has partnered with high-def shorts movie channel ShortsHD (
www.shorts.tv
), which, according to the program's managers, has stepped up to help the students with everything from recruiting to production support.
The details: Each team of students has a budget of $2,000 as well as space in Imagine Park to edit their films and receive guidance from mentors. They'll receive equipment—such as camera, lighting and post-production editing equipment—when they arrive on-site to complete the project. Regarding thematic parameters, the films don't have to be about the show. Any programming genre or mix of genres is ok, but they must be live action.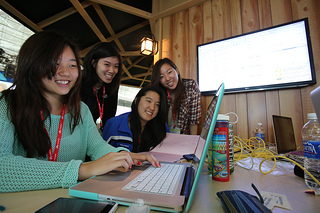 At The Cable Show in Boston, teams of students competed in
an app development hackathon. This year, it's short films.
Of course, you can't set a team of creative loose without any prompts whatsoever. So each group will get a prop and a specific line of dialogue that must be included in the film. They can even shoot around LA—but they need to have at least one scene, out of the four required, recorded on the show floor.
As with the hackathon, the students will get guidance, mentoring and tips from soon to-be-announced industry folks, and the finished products will be screened in Imagine Park. Winners in various categories will take home prizes for themselves and their schools. Moreover, the films are all guaranteed broadcast on the network.