The Cable Center Celebrates its Hall of Fame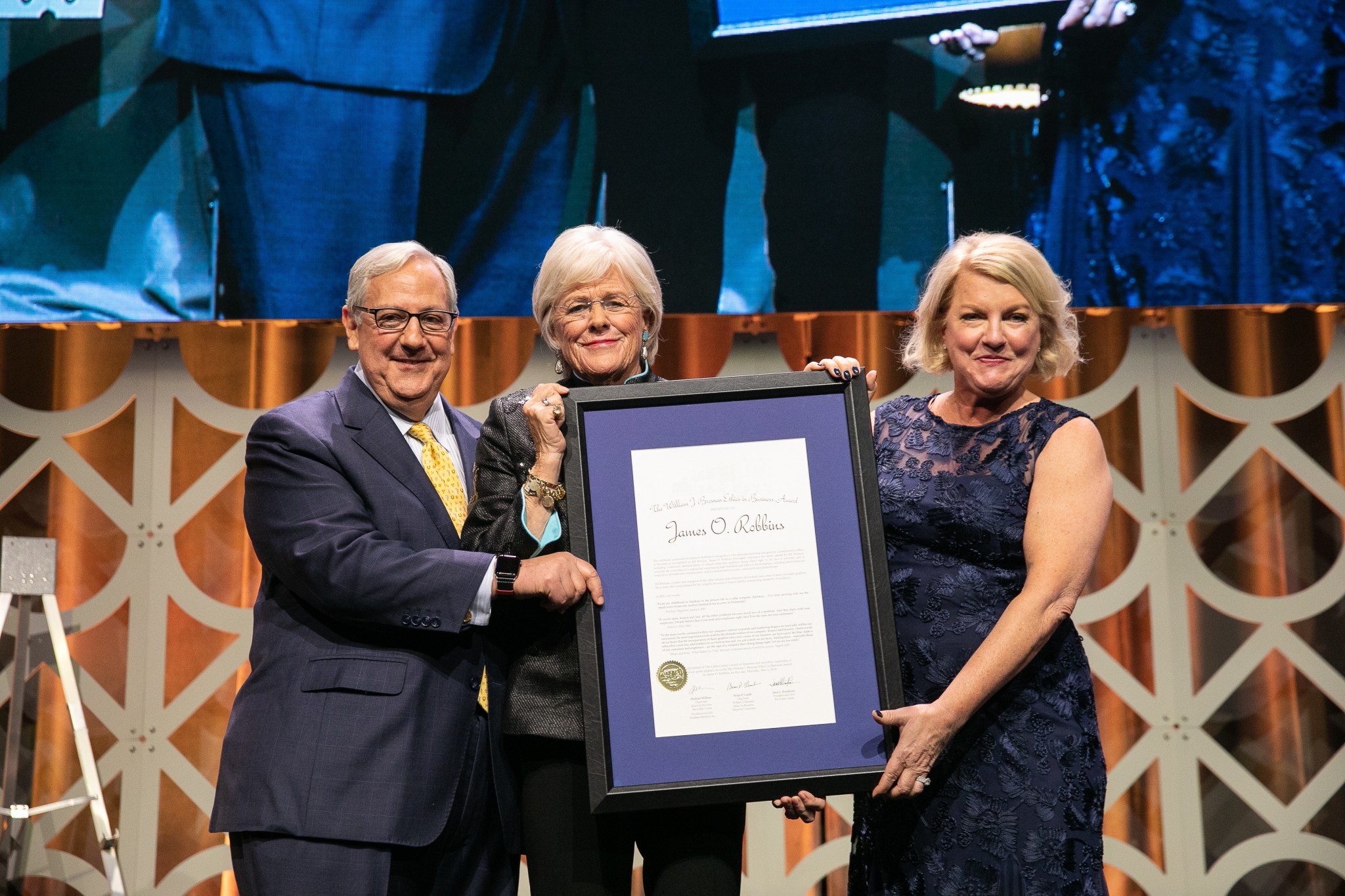 Those attending The Cable Center's 2019 Hall of Fame celebration Thursday night got to hear the late Les Read one last time. Read, who passed away last June at the age of 82, voiced the night's introductory video, with Cable Center pres/CEO Jana Henthorn announcing the recording would be retired after the evening. The program began with a video memorial for Read. Another late cable great was recognized with former Cox pres/CEO Jim Robbins receiving the Bresnan Ethics in Business Award. Debby Robbins accepted on behalf of her late husband. "This award truly personifies Jim," she said. "Jim was honest, humble, committed, loyal, funny and compassionate. He had a real sense of wanting to the right thing, always."
If you ever wanted to see Henthorn in a cowboy hat, you missed out by not attending. The evening kicked off with Ride TV personality Anthony Lucia showing off his rope skills, and Nicole White, 2019 Miss Rodeo New York, presented Henthorn and Michael Willner, chmn of The Cable Center's board, with their honorary headwear.
CNN's Don Lemon emceed the event, and he and his colleagues over in the newsroom even filmed a whole "Situation Room with Wolf Blitzer" bit to honor Phil Kent, the former chmn/CEO of Turner Broadcasting. Other inductees included Leslie Ellis, pres, Ellis Edits; Kyle McSlarrow, svp, customer experience, Comcast; Steve Miron, CEO, Advance/Newhouse; Susan Swain, pres/co-CEO, C-SPAN; and Rob Kennedy, pres/co-CEO, C-SPAN.
"I know when people look at my career, or careers, they're a little bit confused because there doesn't seem to be a common thread through it. But to me it's not that way at all," McSlarrow said in his speech. "For most of my adult life, I've thought about a couple of questions. One, how do you inspire thousands of men and women to go after a great challenge? How do you align them around a common purpose or vision, whether it's small teams or large teams? Particularly in the case of our industry, that delivery of exceptional products and content and services is a high calling. You talk about what you did that day with your family at the dinner table and be proud of it. There has never been a day with my association and the cable industry that I wasn't proud of what we do," he continued.
Kent kicked off his speech by thanking Ted Turner. "So much of what my colleagues and I accomplished was only possible because of what Ted Turner created for us to build on. Not just the networks, but his commitment to innovation, risk-taking, globalization and journalism, and those continue to guide us. With or without his name on the door going forward, I know these commitments will remain alive and well in the company," he said to the crowd.
VJ Martha Quinn was in the house, introducing the "band of rebels" who founded MTV back in 1981, and a highlight reel commemorated memorable moments from the past 38 years. Things certainly have changed. In 2018, MTV Studios launched content for SVOD and linear platforms, and the net has 95% brand awareness in 180 countries.