TCA Report—Showtime Enters Filmmaker Doc Game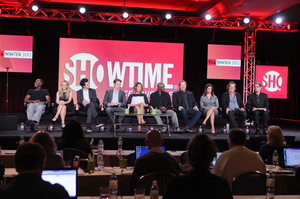 Cast and execs from Showtime's "House of Lies"
Delving into territory long occupied by rival HBO, Showtime pres, ent David Nevins told critics at TCA that Showtime will make a big push into "branded, high-impact filmmaker documentaries" in '12, with the first one slated as "The World According to Dick Cheney" by filmmaker R.J. Cutler ("The War Room").
In addition, Showtime plans docs on controversial hip-hop mogul Suge Knight by filmmaker Antoine Fuqua as well as a project on late comedian Richard Pryor. After the panel, Nevins clarified that the net hasn't yet worked out all the details with Pryor's family on that doc but is making progress. He said Knight is "cooperating" for his doc. No premiere dates yet. Also on deck is more sports programming, he said, noting that he's looking for "personality-driven shows as we build our sports portfolio" and touting the recent addition of Jim Rome.
In addition, Nevins said the net will premiere the next seasons of "Nurse Jackie," "The Big C" and "The Borgias" on Apr 8 and plans a "major marketing push" for season 2 of Matt LeBlanc vehicle "Episodes" this year with a 9-ep run. Critics also wanted Nevins to talk about Showtime's many flawed characters who verge on "unlikeable" (the new series "House of Lies," which Nevins said has "real hit potential," is perhaps the most recent case in point), but Nevins said he disagreed with the premise. "We don't show totally clean, pristine characters," he said. "But I think people come to us looking for challenging characters and challenging situations… To me the enemy is boredom. And the enemy is unpredictability." One prediction Nevins made comfortably: Acclaimed hit "Homeland" will be back in the fall.
Showtime also touted "House of Lies," bringing out the Don Cheadle and Kristen Bell-powered cast and producers. Cheadle acknowledged that the show's management consultant characters are immensely flawed, but "I want to know about them and understand them." Bell said the characters' back-stories will unfold as the show goes on, helping viewers empathize. One unique quality to the show: Cheadle's character often turns to the camera to address viewers. "I just wanted to be intimate," explains creator Matthew Carnahan. Added producer Jessika Borsiczky: "It's the only time we know he's not lying."