Talking Millennials with a Millennial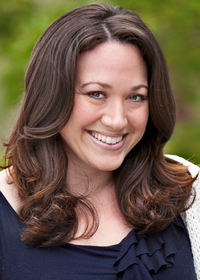 Halogen GM Becky Henderson
There's so much emphasis these days on how to best reach Millennials that it's worth noting that cable has at least one gm who identifies herself as part of the demo. Becky Henderson has headed 18-34-aimed Halogen TV since its launch in Oct '09. At 33, she had to be one of the youngest—if not the youngest—network gms in the industry.
"I'm either the last of the Gen Xers or the top of the Millennials, but I do feel ownership with their generation," she said. "I'm humbled and grateful for the opportunity [to serve as gm]. But I carry a great deal of ownership for Halogen. Not only because I came up with the concept, but because I consider myself part of the Millennial generation."
What is Halogen? Part of the Inspiration Networks family, it's described as a socially conscious net aimed at 18-34s. It's small—at just 15mln HHs, up from about 12mln at launch, but Inspiration execs are hopeful it's different enough to stand out.
"I think media has more potential. Right now, we mostly use it to entertain," Henderson said. "You've got participatory possibilities with TV. You can see it with shows like 'American Idol,' where fans are playing a part in the destiny of the show. I want to take entertainment and merge the potentials of participating with social good. If viewers want to role in their entertainment, let's give them a role that's really powerful and that we feel like Millennials want to play."
As a Millennial, Henderson said she embraces the Millennial philosophy (and Halogen tagline) of "Be the Change." "That's hard sometimes. It's heavy sometimes," she said. "But being young isn't something that scares me. I have a lot of mentors and the experience of our team that I'm surrounded with. I believe in team—staffing my weaknesses and building a strong unit together."
Keeping with the theme of making the world a better place and self improvement, Halogen's programming ranges from environmental series to recently acquired eps of "Biggest Loser" to "Jumps Shipp," entrepreneur Josh Shipp intervenes in someone's life each week to help them live their dreams.
Henderson believes that they are three things that matter most to Millennials, and she's built Halogen around them. "Justice—not Judge Judy kind of Justice, but people should have clean water and kids shouldn't be slaves kind of justice. Connection and Community—not like I have 50K friends on Facebook, but I have a core group of friends and they matter. And Authenticity—truth and stuff that matters and is relevant to their lives," she said.
Inspiration Nets svp, distribution Mark Kang told us that one of Halogen's goals is to help distributors understand the importance of Millennials. "I think the struggle in the beginning was that cable operators, and I guess DBS as well, kind of ignored Millennials. A lot of them are saying, 'Well, they're the ones that are sleeping in my basement. They're not doing anything. They don't have jobs.' There was sort of a negative outlook to what the Millennials are," Kang said. "I think what Becky has done in staying relevant with that brand of Millennials will pay off greatly in the next few years in that the cable industry is going to look for us at the authority and expert on Millennials."