Sundance Channel's Sarah Barnett Talks Pop-Ups and Poptimists
In March the Sundance Channel doubled its original programming hours with seven returning series and two nonfiction series in development. The latest addition to this set is "Ludo Bites America," which follows French chef Ludo Lefebvre as he creates pop-up restaurants in heartland American cities across the country. The show premieres Tuesday July 19 at 9pm ET. CableFAX had a chat with GM and EVP Sarah Barnett about the channel's new direction in branding, its "poptimist" target audience and what's up next.
What have your goals been since you took on this role? When I took over this seat just over two years ago, we built on the Sundance brand by adding a bit of pop to entertainment. Sundance has quality and substance—we're not messing with that. But we think there's an audience that is actually hungry for shows that have substance and fun. A lot of reality TV out there that people watch can be very compelling, but we can offer something that's quite distinct for our audience.
When did the shift in branding begin? I'd say last year, with our show "Girls Who Like Boys Who Like Boys," about straight women and their gay best friends. There was a huge social media phenomenon and it was an example of what I was setting out to do.
How did you integrate social media?
We started a Facebook page for that show about six months out. It was a docu-series that followed four different couples through a number of different life events. For instance, one of the gay guys was adopting, another one was marrying his partner… At that point he couldn't do it in New York. It showed a new kind of relationship between men and women. We realized that there was a whole community of people that were very engaged with issues—not the TV show, we hadn't launched it yet—but issues having to do with gay marriage, anti-gay bullying…. So we built a community online around those issues. And before the show launched, we had hundreds of thousands of people on our Facebook page. They were a natural audience for a TV show. Once we started introducing it to them they were committed.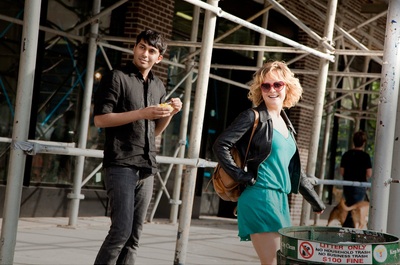 Would you say you introduced a social political element to interacting with your customers? I think it was social action but done in a way that used new technology and felt fresh, inclusive and young. Like a new generation would come to know our brand and engage with our content.
How did you come up with the title? We actually recorded people who came on to our Facebook page—we ran little vignettes on air where various different straight women and their gay best friends spoke about all the different terms and what they wanted to be called. "Fruit fly" ended up actually being the most popular. With "Girls Who Like Boys Who Like Boys," you get it—it's sort of playful and there's no confusion.
It's also a Blur song. Oh we used it! On our promo, actually. We sort of remixed it. It's not a bad reference.
Your original programming is up quite a bit. Yeah, our double down was this year. It's a commitment to creating original programming.
You refer to your audience as "poptimists." We coined this phrase, because that's what cable channels do! We wanted something pithy and succinct to sum up how we see our audience. Obviously it's based on a lot of research that we did. We see it as more of a mindset than a narrow demographic. It's more about the way our audience sees their world than it is just about adults 25-54 etc. etc.
Are you trying to focus on younger kids at all? No, our demo is adults 25-54. Our sweet spot is probably between late 20s to mid 40s. They have a bit of life experience, but are very curious about the world around them and plugged in to what's happening in their world and culture. They're the kind of people who want to influence their friends and are first to be talking about the new band, new product, new idea. They're interested in pushing themselves to some extent—pushing their boundaries, seeing things in a fresh way. Poptimist suggests an honest, bright optimistic perspective.
Congratulations on the recent Emmy nominations for "Carlos." We are over the moon. That's one of the other things. The goal has been to develop nonfiction with strong independent characters at the heart of it, but alongside the nonfiction, one of the things I did when I took over was launch a fiction strategy. Our first example was "Carlos." We've had nonfiction nominations but this is our first scripted.
Now onto "Ludo Bites America." How long does Ludo and his wife Krissy have to put up each pop-up restaurant?
Not long! Ludo used to run restaurants but he didn't want to carry on cooking for the same group, the same sort of grumpy rich people and food critics in LA. He wanted more freedom. So he decided to set up a pop-up in LA, where he takes over restaurants that tend not to have a dinner service and creates a "LudoBites" experience. In LA they only use social media [to tell people where they are]—by the time you hear about it it's too late.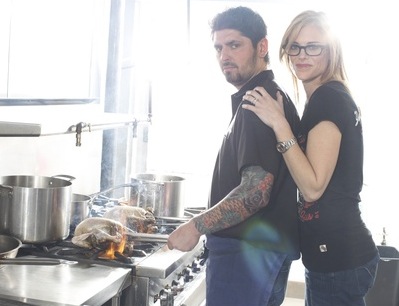 So now he's taking the pop-up on the road. He's French, he knows LA, he's married to an American woman—but he really doesn't know America. Yet he's really curious about it. So we take him to a new heartland American city every week. He has to scout the place, find the restaurant, and he usually goes to a few restaurants before he finds the one that's right. Then I have to persuade them to do it. He generally has a handful of days to set up this pop-up and immerse himself in local cuisine. The idea is to create a menu that marries his haute cuisine, Five-star background with the personality of that town. So there's this fish out of water thing where Ludo, as this explosive, big-hearted French guy, finds himself in Mobile, Alabama or Omaha, Nebraska.
So there's a cultural drama as well. Totally. He has a way of doing things and a certain expectation of everything—the way the staff will behave in the kitchen, etc., etc.—and he slams into a different culture, which is often much slower and laid back.
What's on the horizon for the Sundance channel? Lots of stuff. At the end of August, we launch a show called "Quirky," about a company that democratizes product design. Anyone can submit an invention idea and each week they choose one—usually it takes three months, but they do it in a week or two. If the piece is made and it gets enough early sales, it goes into retail stores such as Bed Bath & Beyond, and everyone who's contributed gets a piece of the pie.
Then we have a show called "Shoebox Sessions," launching in October. It's similar to our show "Iconoclasts," which was probably our most well known original series. It was a biography show with celebrities who came together to talk about their creative aspirations… We had quite a lot of success with that show, so our question to sales was, how can we reinvent this? So we came up with this new celebrity show which asks them to bring a number of artifacts from their teenage years. The premise is that the feel of who you have become developed from those years. So it's things like embarrassing photos, diaries—it sort of charmingly disarms. Then in November we have season two of "Girls Who Like Boys Who Like Boys." We're moving it from New York to Nashville.