Starz Creative Exec Eyes Better Branding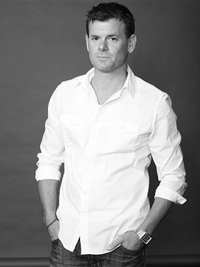 Michael Vamosy, a former executive at FOX and FX, recently was named senior vice president, Creative Services at Starz Entertainment. Less than 2 weeks into the new job, the mission is clear: using creativity to shape the Starz brand. Specifically, that means leveraging design, development and execution of all creative content to support the company's programming, marketing and sales strategies and initiatives, including Starz original series, and further developing and evolving the creative strategy for the network.
"We have a lot of new programming coming down the pipeline," he told CableFAX. "I am looking to align marketing strategy with the upcoming new shows," he said, adding that it's an exciting time to be part of Starz as the network expands its original slate. As an outsider looking in, Vamosy said the network "has a lot more to offer now" as it "broke ground on original series." The network has evolved from a movie destination to a place with wide array of programming available from the Starz and Encore packages. It's also "the place to go for original entertainment," he said.
Vamosy plans to work on marketing and promotion for original series like "Magic City," which was renewed for a 10-episode second season, and "The White Queen," a new 10-episode drama series based on historical novels by Philippa Gregory. Also on Vamosy's to-do list: develop and evolve the creative strategy for Encore. Part of that entails thinking about the differences between the sister brands, he said.
He will also be overseeing creative service for all Starz platforms, including print, TV, online and mobile platforms. Starz Entertainment recently launched Starz Play and Encore Play authenticated online services for Cox customers. The company expects to launch Movieplex and Movieplex Play with Cox and announce additional launch agreements with its distribution partners in the future.
Vamosy started his career in 1993 as a graphic designer at The Design Works in Los Angeles and is a regular guest lecturer on all topics of design. He served as senior vice president, Design with Fox Broadcasting after five years at FX as vice president of Design, leading the development of FX's in-hour design team "StudioFX."