Smoke Watch – EWTN Covers Papal Election from the Catholic Perspective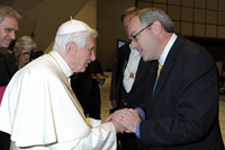 Michael Warsaw meets Pope Benedict XVI
in Rome. Photo cred: L'Osservatore Romano
While many news nets are focused on the chimney smoke at the Vatican this week, for one channel it's especially important. "This is really our Super Bowl or Masters," said Michael Warsaw, President and CEO of EWTN Global Catholic Network. He was speaking by phone from Rome, where he was able to snag one of the last rooms at his hotel right after the dates for the conclave to elect a new pope were announced. Room rates more than tripled overnight in many places as people flood the city for the selection of the 266th pope.
EWTN has about 50 people on the ground in Rome. That includes staff from 2 offices it maintains in Rome all the time. "I daresay we provide more hours of coverage and will continue to as we wait for white smoke," Warsaw said. With 225mln homes in 144 countries and territories, EWTN says it is the largest religious media network in the world. Based in Birmingham, AL, its distribution includes more cable, DBS and low power TV and individual satellite users.
It is, of course, a media circus now outside the Vatican. CNN's Anderson Cooper and Chris Cuomo are in Rome along with Fox News' Shepard Smith, MSNBC's Chris Jansing, broadcast news anchors and outlets from around the world. EWTN is striving to provide something unique for its viewership.
"Many of the news nets do a wonderful job in covering it, but they don't have the context and understanding that EWTN has. We understand the significance of what this event means for the church and broader world as well," Warsaw said, adding that its Rome staff will continue reporting long after the TV anchors have hopped flights back home. "We're reporting in a news style, but there is absolutely a spiritual aspect. We ask viewers to pray for the cardinals. To pray for the Church."
When Pope Benedict XV1 was elected 8 years ago, Facebook and YouTube were in their infancy. Twitter didn't even exist. This time around EWTN has a dedicated full-time social media presence. "We've really tried to consciously integrate, whereas 8 years ago it was largely focused on TV efforts," Warsaw said, saying traffic numbers on social media and EWTN's Website have doubled and tripled over the last couple weeks.
EWTN's filling its YouTube account with scenes from St. Peter's Square and asking viewers to email any question about the conclave or papacy to be answered during its on-air "Smoke Watch," The interactive element of social media is allowing people—not just EWTN viewers—to follow the papal election in an unprecedented way. Many are calling for a social media savvy pope. "Like it or not, the next Pope will be the first social Pope," wrote Carmichael Lynch pres/chief strategy officer Marcus Fischer in
a Fast Company column
.
Pope Benedict used social media and had a Twitter account, but some think the bar will be raised. From Dec 12, 2012 until his final tweet on Feb 28, Pope Benedict had 39 tweets. His final tweet before the @Pontifex account was disabled: "Thank you for your love and support. May you always experience the joy that comes from putting Christ at the centre of your lives."