Sling Wins Fight Night with PPV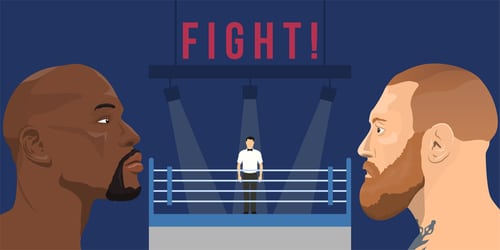 The book isn't closed on any big-time boxing promotion until all the money is counted, and last month's Floyd Mayweather–Conor McGregor megafight is no exception. Industry folks are still waiting to find out whether the Showtime card broke Mayweather's previous record for most PPV buys—4.6mln against Manny Pacquiao in 2015. Showtime and UFC's refund offers to customers who experienced technical difficulties streaming the fight—plus a class-action lawsuit—could complicate that calculus.
Regardless of whether the fight breaks the record, however, Sling TV is already chalking up its own presentation of the fight as a success. The DISH-owned live TV service became the first virtual MVPD to offer a PPV event with UFC 214 in July, but the August boxing match between the undefeated champ and UFC challenger was a far more significant test.
While OTT services and pay-TV providers alike experienced difficulties with order volume in the moments leading up to the fight, Sling's fight night went off without a hitch.
"Given its higher viewership, we absolutely needed to make sure that our systems could handle all that pressure on the back end," said Sling vp, business development and operations Sruta Vootukuru. "Not only in the back end, since the majority of the volume of buys typically tends to happen just before the event—most people are making a last-minute decision about whether they want to watch the fight or not—the front-end systems needed to be really buttoned up and able to handle that immense load within such a finite window of time."
Vootukuru said the company had been preparing to offer PPV for nearly two years, a long time considering Sling only launched in 2015. Given the $100 price tag for customers, it wasn't something the company took lightly. Fight night was an all-hands-on-deck scenario for Sling, which had multiple command centers and two so-called "war rooms."
"We had representation from across all areas," Vootukuru said. "When I say all areas, literally think of marketing, production operations, customer care, social, digital. Everyone was there, everyone had at least one to two people representing, if not more. We watched all the fights that preceded the main fight, too, and we were making sure that the social sentiment was really good and keeping our finger on the pulse of any concerns that any customer experienced."
Macquarie Research's Amy Yong estimated MVPDs selling the fight would take about 40-50% of approximately $500mln in PPV revenue for the Mayweather-McGregor fight. It's unclear whether the economics are the same for virtual MVPDs like Sling, particularly given networks are believed to receive higher rates for carriage from such services. Vootukuru declined to comment on PPV economics for Sling, as well as how many customers purchased the fight through the platform. Still, she said she was happy with the event in terms of both PPV buys and subscriber acquisition.
Sling continued its PPV offerings over the weekend with UFC 215 and this weekend is offering HBO's highly anticipated middleweight between Canelo Álvarez and Gennady Golovkin on Saturday night.
In what has become a very competitive ecosystem, several virtual MVPDs have recently sought to set themselves apart by accruing as many local broadcast nets as possible. For Sling, which has stayed out of that particular arms race, PPV for now remains a totally unique feature in the market.