The Secrets of Showtime's 'Spymasters'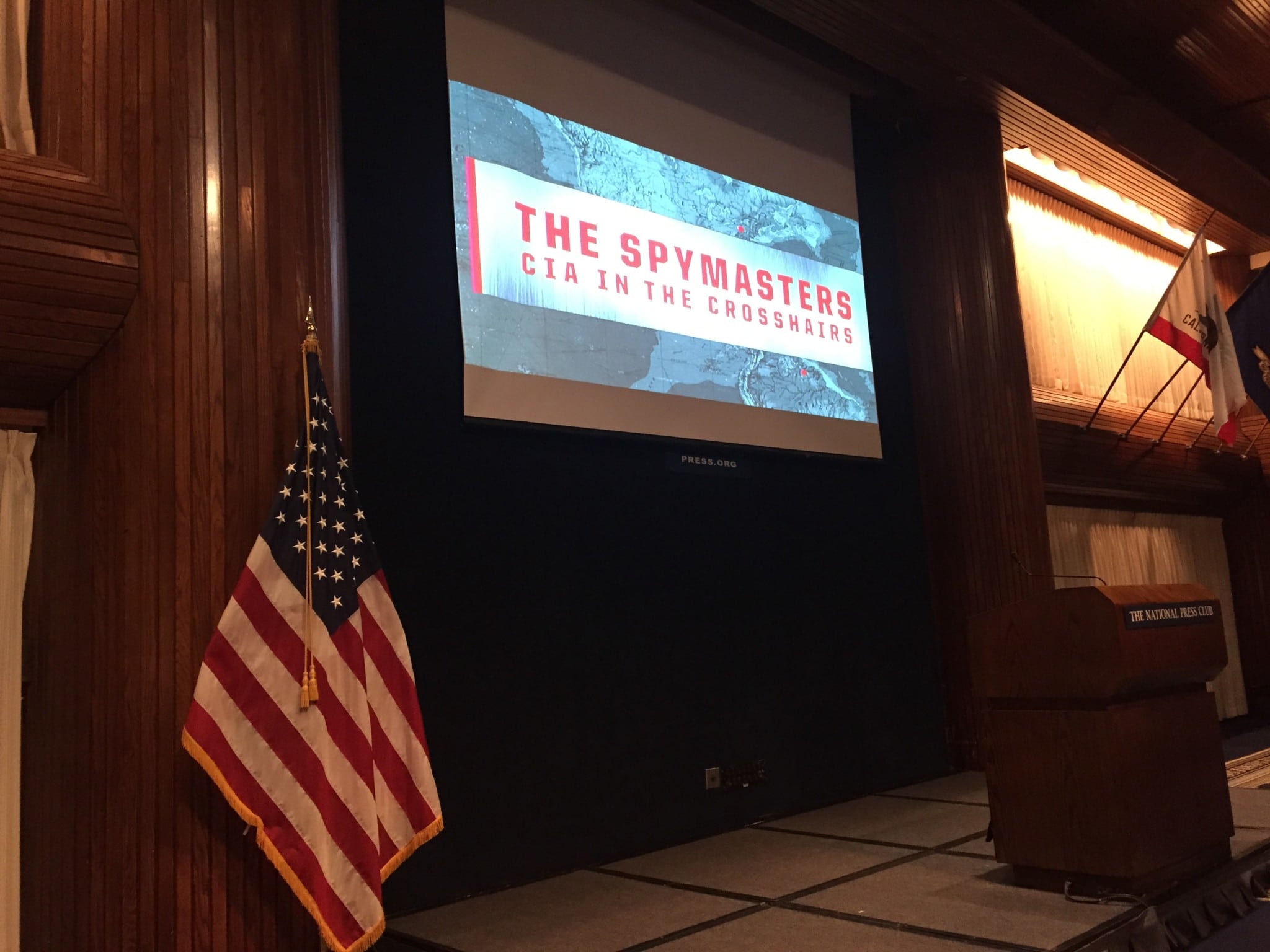 Showtime's Nov. 19 screening of its new documentary "Spymasters: CIA in the Crosshairs," which centers on appropriate and ethical security measures in the age of terrorism, came just six days after the terrorist attacks on Paris.
"We had no idea how tragically timely this film would turn out to be," writer Chris Whipple told the crowd at the National Press Club in Washington, DC. "In fact—just this morning—we finished updating the film with footage from those shootings. Parisians are on our mind tonight," he said. Co-director and co-producer Jules Naudet, of French descent, followed Whipple and asked the audience to join him in a minute of silence to acknowledge the victims.
Whipple introduced the doc, set to premiere Nov. 28 at 9pm, along with CEO of Showtime Networks Matt Blank and Naudet. "We're thrilled to have done this for Showtime, so thanks first and foremost to Leslie Moonves who actually believed us when we came to him with this insane idea that we could get every living CIA director to spill their secrets to us," said Whipple.
While the Nov. 19 screening didn't show the latest footage from Paris, the audience remained captivated as the film cycled through interviews with all 12 living CIA directors, including current director John Brennan. Several controversial topics, including torture, were touched on in the film. A few individuals—including former CIA deputy director, Michael Morell—admitted to the effectiveness of enhanced interrogation techniques, which came under scrutiny in the 2012 Senate Committee Report. Jose Rodriguez, chief of the counter terrorism center, even spoke of destroying tapes of his operatives' waterboarding detainees, claiming that they would mar the reputation of the CIA and make field agents look like "psychos." CIA directors of earlier generations, however, including Stansfield Turner who served under Carter, were adamant that these techniques amounted to "torture" and would ultimately harm the country's reputation.
Directors also questioned the ethics and morality behind the drone program. With field operatives working out of Nevada, drone technology almost becomes a "video game," ex-CIA director Michael Hayden claimed. George Tenet, another ex-CIA director who served during 9/11, agreed and added that drone strikes become particularly tough when civilians are caught in the crosshairs. It becomes the choice of saving a few lives and saving the lives of many, who may be future victims of an attack.
These ethical questions require further exploration, and debates remain central during this time of heightened international security. "This is a very important film. It's a terrific film, and we're very proud of it," said  Showtime chief Blank.