Shark Week Makes Splash in DC Metro Area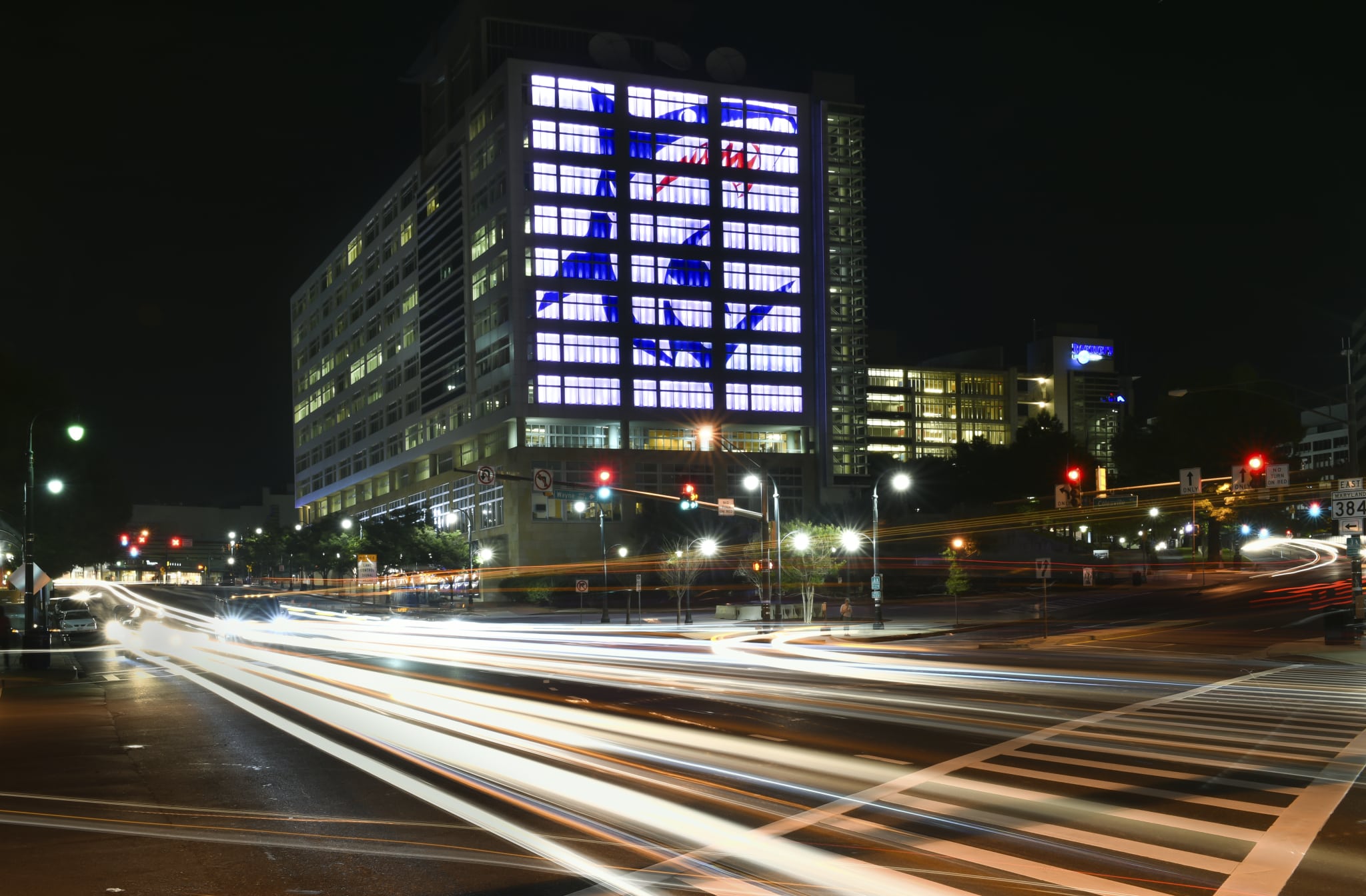 Discovery Communications' Shark Week returns this week, making a splash in the Washington DC area. Kicking off this Sunday, the annual event will feature plenty of community fun.  And Chompie Jr. will spread the fun by visiting local spots.
For the 2nd year, Discovery asked local residents how it should decorate its Silver Spring headquarters building. A survey was released with three potential options for the south façade of the building along Colesville Road and Wayne Avenue (facing the metro) which included: the "Toothy Grin," "I Heart Shark" and "Fintastic Shark" murals.  After a thousand people voted during the week of June 6 to 10, the winning mural was Fintastic Shark, which was installed on Monday, June 20. Check out the time lapse video demonstrating the installation and a close-up video showing the finished product.  The mural will be up and lit at night through July 5.
Meanwhile, Chompie Jr., the great white shark, has been spreading Shark Week cheer around the DC area until Friday, visiting local tourists spots and unsuspecting offices throughout the area. A contest will be held for fans to submit pictures posing with Chompie Jr. for a Shark Week prize 'swag' pack. To enter, fans can use #ChompieGram and #contest on Facebook, Twitter or Instagram. "Discovery loves getting the local community involved in Shark Week and we are excited to kick off a number of 'fintastic' festivities in the area. Every year we try and make Shark Week activities reach more residents, whether it's an art installation, Chompie Jr. office or metro visit, or family music event in the neighborhood," said a spokesperson .
In Downtown Silver Spring, MD, a Shark Week Family Fun Fest was scheduled on Friday, June 24 from 6 to 8pm. Area residents and visitors will be treated to a face painter, balloon artist, greeting from Chompie Jr., shark fin hat and other giveaways, and music from the Annapolis, MD-based funk reggae band Eight Ohms.