On the Set of The Walking Dead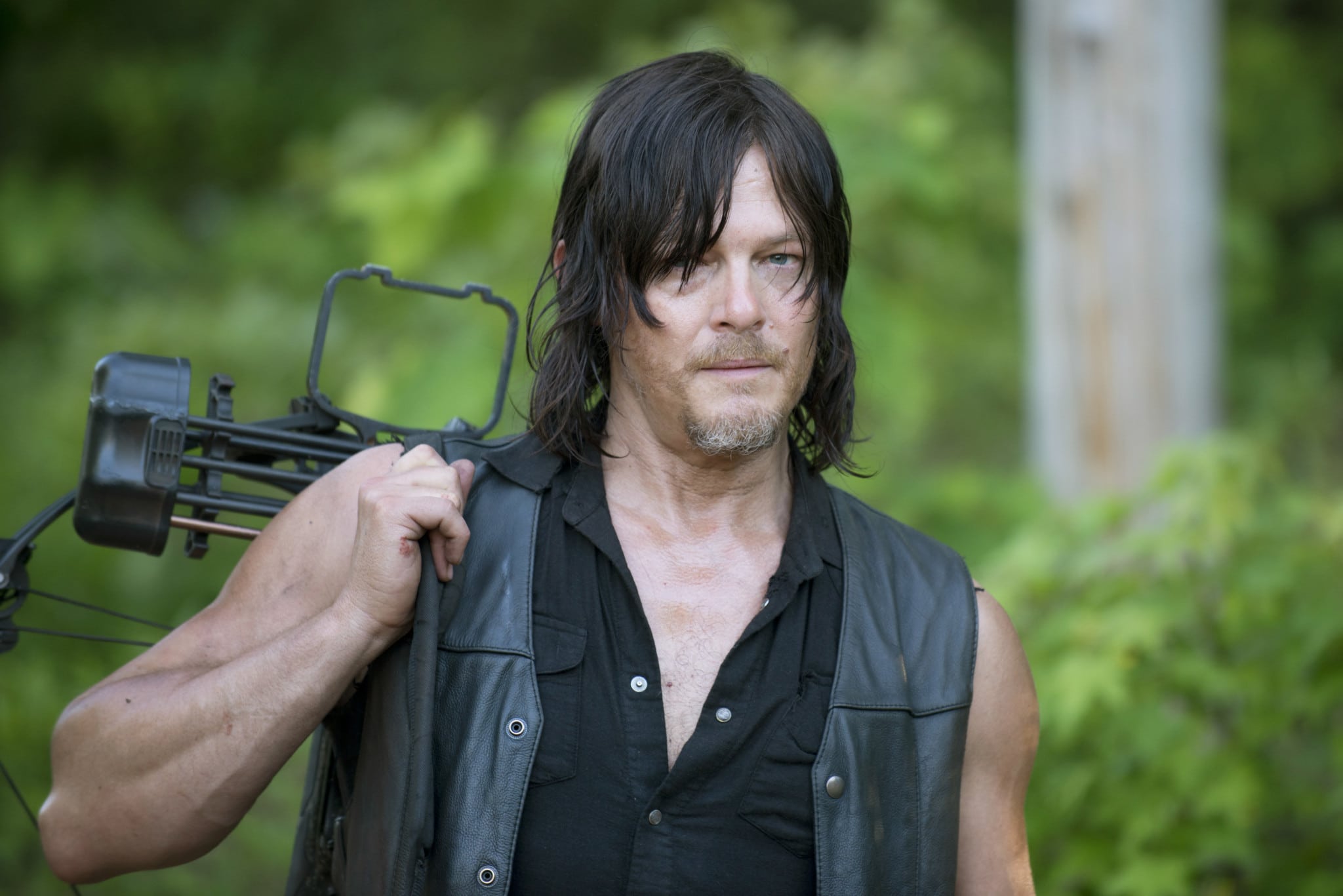 At 7:45 in the morning, Melissa Dukes set up a chair in the yard of a private home in Griffin, Georgia, a few houses away from the day's filming. A banner with a heart and #TWDFamily hung next to her on a pick-up truck. From her vantage point, she could not really see the action, just the occasional car with a crew member passing. At 5:30pm, she was still there. But now she had been joined by at least a half dozen others, including children. When I caught up with Dukes, she said she sat outside until nearly 9pm that night. She didn't see much, but at one point actor Norman Reedus passed by in a vehicle, stuck out his tongue and waved at the kids. "They went nuts."
Had the filming been somewhere more public, hundreds would likely have lined the streets to get as close as they could. At one point during the day's shoot, a school bus was allowed through the otherwise closed-for-filming road. All the little faces on board were pressed up against the window to get a glimpse of what was happening. So is the pull of AMC's "The Walking Dead" in Georgia, where it has filmed all of its episodes. Season 6 premieres Sunday at 9pm.
"There are fans of the show everywhere we go," said Reedus, who plays fan favorite Daryl. "It's been really nice working here as opposed to working in other cities that have a different sort of outlook on everything. The enthusiasm is nice here."
While TWD may be the show Georgia is best known for these days, the zombies have plenty of company. For fiscal year 2015, 248 film and TV productions shot in the state, representing $1.7bln in spending. Reedus has seen it unfold. "I have a lot of friends that talk about shooting here now," he said. Reedus himself filmed upcoming movie "Triple 9" with Kate Winslet last year in downtown Atlanta, shuffling back and forth between the movie set and TWD, which is filmed south of Atlanta.
"The film industry has been here for a long time. It's sort of like an actor that suddenly appears out of nowhere, but their career really spans several years before they actually become a star. Georgia's been like that," explained TWD locations manager Mike Riley.
The movie adaptation of James Dickey's "Deliverance" in 1972 "jumpstarted the modern era" of the film industry in Georgia, Riley said. After its release then-governor Jimmy Carter established one of the first state film commissions in the country. A string of productions followed in the '70s and '80s—"Smokey and the Bandit," "The Longest Yard," "Driving Miss Daisy," the TV series "In the Heat of the Night." But in the '90s, many productions moved to Canada for its film incentives.
"It's something to see the difference of what's going on now from the '80s when we might have had 7 or 8 projects here in a year… and we considered that a good year," said Riley, who worked for the state's film office in that decade.
TWD executive producer Tom Luse grew up in the state and was location manager for "Murder in Coweta County," which starred Johnny Cash and Andy Griffith and was filmed near Griffin. "Georgia's known for being a film center. It's an attractive place," Luse said on set, pointing to the benefits of having a major city like Atlanta (with one of the world's busiest airports) nearby. He's shot many productions in the state over the years and with its varied geography, it's been able to offer just about everything—from the mountains of Appalachia to the ocean near Savannah. "The only challenge I've ever had shooting places for Georgia has been trying to find a desert here," Luse said.
The film boon has been helped by Georgia's hearty incentives aimed at the film and TV industry. Qualifying productions can receive a 20% tax credit, plus an additional 10% credit for embedding a Georgia promotional logo in film titles or credits. It's why films like Universal's "Identity Theft" may have featured a road trip that spanned 7 states, but filming took place entirely within Georgia. And it's impossible to keep track of the number of Peach State-based reality shows on cable.
"It's a solid program that works. It's based on tax credits, not on cash. The governor has embraced it, and that's a big thing to have state government realize it's an important industry to have. They're doing what they can to keep it here," Riley said.
The state is taking its film interest even further, with the Governor's Office establishing the Georgia Film Academy, which will start training programs through some of the technical schools and universities in the state. It was born out of Gov Nathan Deal's "High Demand Career" initiative, in which schools and the state government talked with companies based in the state about what their needs were. "Many of the [entertainment] people talked about needing more crew," said Stefanie Paupeck Harper, communications dir for the Georgia Dept of Economic Development. The legislature approved starting the Academy, and a director was just hired for it a couple months ago.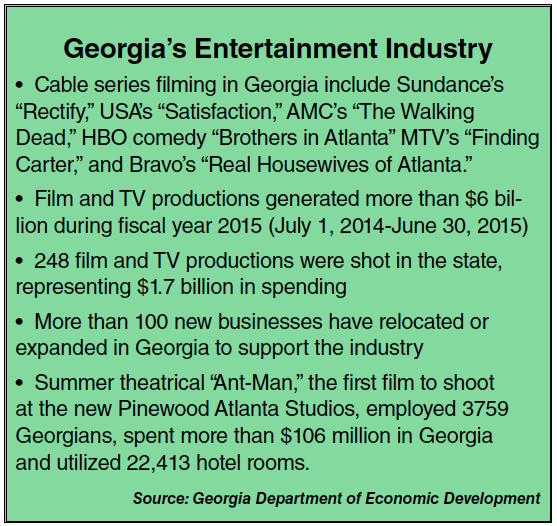 "I think that's going to help improve the effect of the incentive. Once you start seeing jobs created locally, I think that gives a lot more support to the incentive program," Riley said. "People may be a little skeptical to it, but once their nephew or their grandson gets a job working in the film industry, they'll say, 'Hey, that's pretty good, I like that.' We're spending a lot of money that you might not see on the surface. Not everybody benefits directly from us being here, but I think everybody benefits indirectly in the long run."
Details of TWD's Season 6 are being kept very quiet. In Season 5, leader Rick Grimes and his band of followers headed north and left off in Alexandria, Virginia—still filmed in Georgia. "This season is in many ways bigger than anything we've done before in a sense of scale, in a sense of events. For us, we're definitely reaching for the stars," Luse said of what's to come. "This is a truly ambitious year. I think people will be surprised by it."
Reedus's character wasn't seen much in the back half of Season 5, but that seems to be changing. "There are so many cast members now. They're spacing and pacing with us," he said. "Plus, we're also in a town now, and Daryl doesn't really vibe with the town so much. That might be a hint of something to come."