Seeing Red with YouTube's Susanne Daniels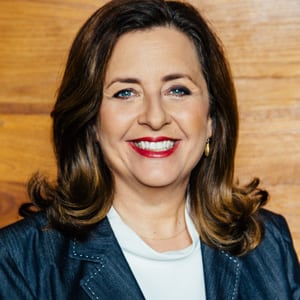 Susanne Daniels is a household name within Hollywood and television circles, having worked everywhere from ABC and Fox to Lifetime and MTV over the years. But her current gig as YouTube's global head of original programming means that she looks at everything through a slightly different lens—including the fledgling YouTube Red, which relies on subscription fees rather than advertising.
As Showtime chief David Nevins joked at TCA in January, Hollywood is up against "invaders from the North" whose big Silicon Valley coffers mean more competition for talent and consumer eyeballs. But Daniels feels right at home. "I definitely feel more a part of Hollywood because it's my background," Daniels told Cablefax in a recent interview. "I'm still getting used to the Silicon Valley of it all. And I think they're still getting used to Hollywood. I think there's a lot of work that has to be done on both sides."
That interplay has certainly created an environment of anxiety for those developing new content—and fighting for resources. But Daniels said YouTube Red isn't about to abandon its roots, which continues to be its association to a platform that emphasized user-generated content and its creators whose online fame can drive huge audiences.
"I think it's important that we continue working with YouTube stars," she said. "That's always going to resonate with viewers, and that's always going to be an important part of YouTube Red's brand." She notes that every YouTube star with a show on YouTube Red has seen traffic to their ad-supported channel increase by a minimum of 25%, "but I think it's also important that we broaden our audience, that we broaden our subscriber base and broaden that appeal."
The drive for "non-endemic" original content will ramp up in 2018, she said. So how does today's "peak TV" compare with the old days of four broadcast nets? "Life was easier, but the bar was so high," she said. "You could have a really good show that didn't cut the mustard, and now you can have these cool niche shows that find their audiences and explore different voices, and to me that's the good news." – Michael Grebb