SCTE-ISBE Cable-Tec Expo Show Daily: Day 2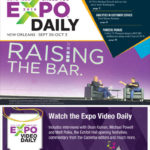 The official first day kickoff of Cable-Tec Expo is in the books, with Washington coming to the show in more ways than one. At the same time NCTA chief Michael Powell was on the main stage offering insights on the Hill's view of the industry, the highly anticipated decision on net neutrality rules came down from the DC Circuit. The busy day included inspiring words from innovator Dean Kamen as well as FedEx exec Preetha Vijayakumar. We cover it all in Day 2 of the Show Daily. Also inside is a preview of tonight's Cable TV Pioneers dinner.
Need a quick recap of everything that happened? We're not just a print publication this week. Watch the Video Daily from Day 2 here.