'Roots' Screening & The Lawn: INTX Revamps Event Format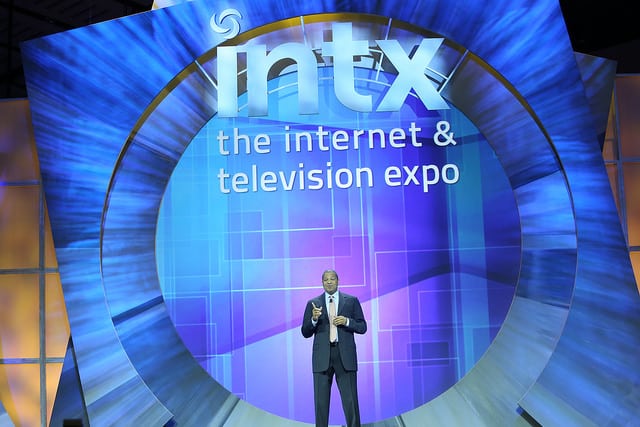 With NCTA's Internet & Television Expo making its second appearance this May since rebranding from the Cable Show, there is plenty about the conference that's still new and different for longtime attendees. But come May 16 in Boston, you'll find that this year NCTA has worked to embrace a nontraditional format in a number of ways.
One that stands out is Wednesday's afternoon General Session featuring a screening of A&E Studios' reimagining of the classic TV miniseries "Roots," accompanied by a panel of talent, including actor and co-executive producer LaVar Burton. The idea came from a big picture brainstorming session by the INTX Advisory Board, according to NCTA's svp of industry affairs Barbara York. Instead of doing all the sessions in the same, formulaic fashions, with a panel and moderator on relevant topics, they decided to do one-on-one and two-on-two interviews. And it was suggested that perhaps the sessions shouldn't just be about business aspects like the rollout of 4K, streaming services, marketing or advertising, she said. "Maybe some conversations should be about our culture," York said, about what the nation is experiencing and the social conversation around that.
A&E happened to be present in that room and suggested involving Roots. So after some deliberation, NCTA came to the conclusion that it was a good idea to shake it up. "The landmark series aired 40 years ago, and cable content was in its infancy. Having LaVar there is something nice for the end of the show when you're maxed out with knowledge," York said. And it is particularly important to discuss a work like Roots, given the current state of race relations in the U.S. "We've had so many gut wrenching stories and fragmentation in our society on race relations and what it means, so we said OK, maybe we should pause and talk about it." Nor was the importance of representing diversity on stage taken lightly. "We're making sure the rest of the panels reflect our country today" York said.
Beyond the addition of Roots, there are new details NCTA is excited about. The editorial curation of sessions was handled by the publication re/code last year. Following that success, the association has allowed TED conference managers to curate a Tuesday super session this year. TED is choosing the speakers, the host and the theme, which is "Disruption."
NCTA has also played with the location of sessions. There are six "super sessions," on the topics of advertising, financial analysts' take, FCC Commissioners, CTOs, content development and one to be decided. The topics are familiar, but the actual sessions will take place right on the exhibit floor, on a "stage within a stage." Meanwhile, they also created a green space for networking, called "The Lawn," inspired by Boston's own "The Lawn on D" interactive, outdoor space. Attendees can play bocce ball, mini golf and corn hole, lounge in Adirondack chairs, charge their phones or grab a bite from a food truck. "We're hoping it will be a really active, vibrant space," similar to a park in a big city. Some companies have booked lunches and receptions there as well.
Now until show time is when you'll begin to hear of additional speakers as they become finalized, York said, so be sure to check out the NCTA's website leading up to the event.