Reviews…Liz & Dick—Leftover Turkey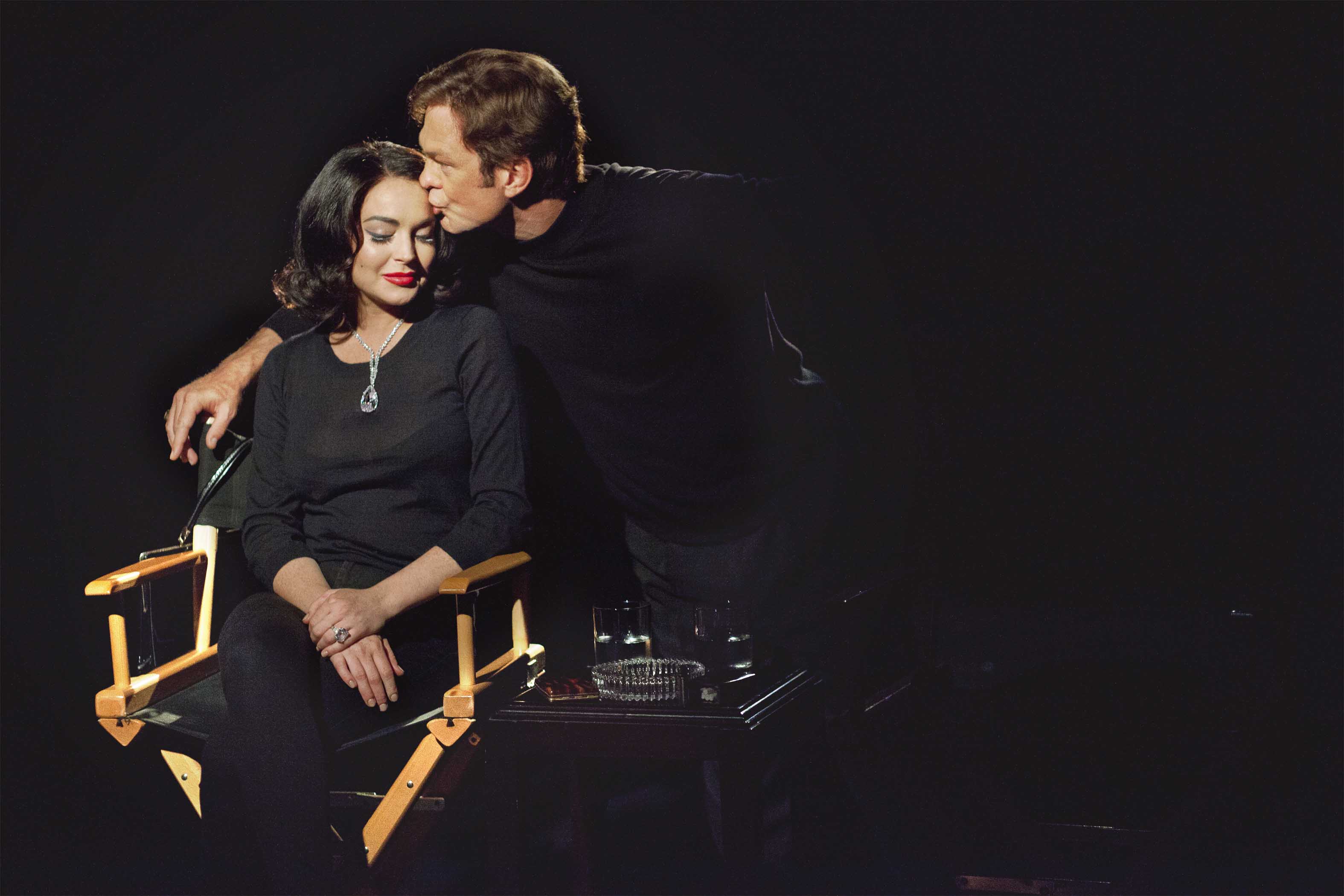 Lindsay Lohan plays Elizabeth Taylor in "Liz and Dick"
Due to the holiday, we skip Thursday and Friday's editions of CableFAX Daily. To tide you over, we provide the usual Friday cable program reviews. Our critic says that if you want to re-live Thanksgiving dinner, tune in to Lifetime Sunday at 9p for a turkey called "Liz & Dick."
"Liz and Dick," Sunday, 9p, Lifetime.

On the face of it, it was a smart move by
Lifetime
to sign
Lindsay Lohan
to play
Elizabeth Taylor
. After all,
Charlie Sheen
and
FX
were only the latest to demonstrate how many of us will spend time watching a train wreck on TV.
In addition, you could see how Lifetime might think LiLo would be the perfect choice to play Taylor. From an artistic point of view, Lohan might identify with Liz, as they had a fair amount in common. Moreover, Lifetime could think correctly that the public has equated some of Lohan's shenanigans with Liz's colorful escapades.
Unfortunately, the talented Lohan struggles mightily in this film. Of course, asking even the most talented actor to dominate the screen a la Taylor is a monumental job. Lohan, who like Taylor was a talented child star, is just not up to the job. She doesn't seem invested in the role of this high-status character, and does little to hide her squeaky voice. To be fair, even a tour de force by Lohan wouldn't save this film, which is entertaining at times but ultimately falls short. As
Richard Burton
, Lohan's co-star
Grant Bowler
makes a good effort; ditto for
David Hunt
, as Ifor Burton. Their attempt is for naught.
Lohan's and Bowler's work are far from the biggest problem, however. The main culprit is that the film itself is flat. It tells us little about the couple, besides stating the obvious—that Liz & Dick could smoke and drink the cast of "Mad Men" under the table. We don't find out much about what made Liz & Dick tick as people or as actors. Who were they? What was the scale of their fame and what brought them down? We get a hint at the very end of the picture, when Liz says that after making 40 pictures in their 12 years together, "we're tired."

Since the plot is largely a loose collection of scenes set in various cities, the film drags in spots. On the other hand, elements of Liz & Dick's relationship come at us with amazing rapidity. Her attraction to him is reduced to one moment; the reason for their breakup seems to originate from Dick's teasing Liz about being "dumpy;" when Liz learns that Dick has died, she faints immediately.

While Lifetime's hair and makeup departments get kudos for their ability to make Lohan look like Taylor, the viewer never forgets that it's LiLo wearing those costumes, wigs and makeup. But that might just be what Lifetime is hoping.
"Enemies Within: Joe McCarthy," Sun, 9p,
Smithsonian Channel
.
TV critics love to deride docudramas, or films that re-create actual events. That's why they might deduct points from this film, which includes scenes where actors play the infamous Senator
Joe McCarthy
, his controversial lawyer
Roy Cohn
,
Allen Dulles
, the CIA chief he butted heads with, and many others. The critics might have a point. These scenes, with a few exceptions, add little to what is a very good piece of documentary filmmaking.
Concentrating on the docu part of the docudrama, we get an extensive look at McCarthy's upbringing, his formative years and the tremendous drive, intelligence, stubbornness and ego that motivated a humble farm boy to vow that he would go to Washington and become a senator. This part of the story bears a striking resemblance to the origins of Richard Nixon, who would play a major role in McCarthy's rise and downfall.
The storytelling, which is fine without the re-created scenes, is augmented by excellent historical footage. For those who've never seen McCarthy in action, the video clips here bring the man and his story alive.
Also helping to paint a picture of the man and the moment are comments from journalists
Haynes Johnson
and
Ben Bradlee
, who covered Congress when McCarthy served. These talking heads are supplemented nicely by McCarthy biographer
Thomas Reeves
, who discusses how the senator's search for an issue that could propel him to national prominence led to his anti-Communism stance. Also discussed are McCarthy's hunger for headlines, his manipulation of the facts and the press and his drinking.
It took director
Lutz Hachmeister
five years to research and interview historians, McCarthy relatives as well as enemies and friends of the former Wisconsin Republican. His time was well spent. Perhaps his most interesting interview 'get' was
Oleg Kalugin
, a former Soviet KGB General, who flat out says that some of McCarthy's intelligence wasn't half bad. "Yes, we had informants in the U.S. government [in 1950]…and we got a lot of good information from them," he says in accented, but perfectly good English. Where he disputes McCarthy is on the extent of his claims. At one point McCarthy said there were more than 200 communist operatives working in the State Department. McCarthy, Kalugin says, was way off on this one. We had about one dozen there, Kalugin adds. It's only one of many wow moments in this interesting exploration of a controversial figure.
A Murdering Duo
A pair of extremely chilling films, one about the well-known killer
Ted Bundy
, the other about a serial murderer far less known who might have been part of the
O.J. Simpson
–
Nicole Brown Simpson-Ron Goldman
case.
"My Brother The Serial Killer" (Wed, 9p,
Investigation Discovery
) provides an extensive look at convicted murderer
Glen Rogers
by two of his siblings, supplemented by police officials and journalists. ID is hyping the film on the allegation that Rogers was involved in the Simpson case, possibly as the killer of Ms. Simpson. The charge has enraged the
Brown and Goldman families
. Even without that material, which comes late in the film, "My Brother" is a gripping story, telling how a young boy from a poor, dysfunctional family in Kentucky was given "the tools" to become a serial killer, even by the police, according to his brother
Clay
, an ex-con who trained his brother to steal when Glen was a juvenile. In "Ted Bundy: Death Row Tapes" (Sun, 9p,
MSNBC
) we hear from Bundy himself. In tapes made while he sat on death row in 1989, Bundy, calmly, coolly and articulately describes how he killed his female victims. Even creepier, on a series of tapes, Bundy tells author
Stephen Michaud
how he kidnapped, raped and eventually killed women but only refers to the killer as 'him' or 'he' never 'I.'
Winning by a Hair
The season II return of "Whisker Wars" (Fri, 10p,
IFC
) is more evidence that this network is attempting to live up to its tagline '
Always On. Slightly Off
.' Once again viewers enter the world of competitive facial hair as men 'face-off' to see who has the best beard. As you can imagine, the competition is fierce and personal, with the Germans dominating this global 'sport' that's growing daily. Rightly, the
IFC
series concentrates on U.S.-based beards, as the lads get ready to take on the Germans. But first, there's the matter of winning competitions on the U.S. circuit. Longtime favorite
Jack Passion
has been AWOL, but vows to make a comeback. He eats for his beard, he tells us, and exercises for it. "That's why I have the best beard," he says. Other competitors train differently, engaging spiritual advisors, hair curlers (for the freestyle competition) and costume designers. IFC's narrator is key, as he does his job with appropriate sardonic tone in his voice.