Ray McKinnon on his Creative Vision for Sundance Channel's 'Rectify'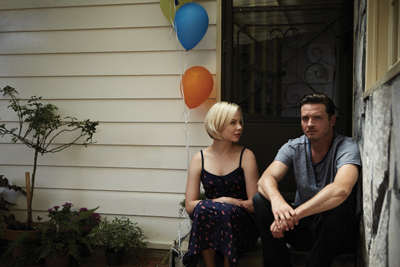 Tawney (
Adelaide Clemens
) and Daniel (
Aden Young
) in Sundance
Channel's "Rectify." The scripted series premieres April 22, 9pm.
You may know Ray McKinnon from his acting roles, whether as Reverend H.W. Smith in "Deadwood," attorney Linc Potter in "Sons of Anarchy" or Coach Cotton in the Oscar-winning film "The Blind Side." But he's achieved plenty behind the camera as well, including an Academy Award for his short film "The Accountant," which he wrote, starred in and directed. His latest project is "Rectify," Sundance Channel's first wholly-owned scripted production premiering April 22, a project he has written and executive produced. The story follows Daniel Holden who, having been released from prison after 19 years on death row, attempts to reintegrate into his community. Here is McKinnon on his creative vision and inspiration, the show's unique pacing and the beauty of tackling philosophical questions.
It seems as if the music is very important to "Rectify." Where did you look for inspiration?
Yes, I wanted music to walk that fine line of sometimes leading the action or emotion and sometimes staying back and supporting as the narrative leads. There is so much great, fresh music in the world today. So many musicians are now influenced by cinema that finding music was not the issue. Deciding was. And of course, going back to the early 90's before Daniel was imprisoned was a rock goldmine. Cracker, Mazzy Star, et al.
The series depicts Daniel Holden's first 7 days out of prison. The pacing is slower compared to most television shows. If it continues for another season, will you attempt to keep the pacing the same, or might you speed it up to reflect how Daniel Holden might feel as he adjusts to life outside of prison?
I would imagine that the pace of the show might, again, reflect Daniel's inner pace to some degree. As he becomes more of the world, then accordingly the show would reflect that. So time might naturally compress as the moment to moment experiences of his life loses some of it's um… elasticity. To the point, it will be a different pace.
Was 6 television episodes always your intention for this story, or did you ever conceive of it as a film?
I never conceived Rectify as a film. Some stories are suited better in a longer form than 90 to 120 minutes. What fascinated me about the possibilities of this show was not to have to compress Daniel's evolution. When you look at Daniel's first week as a free man over these six "chapters" a lot happens.
There's a lot of watching going on in the series, peering in on people. Was this an intentional theme for you?

I love stories that are, in some ways, an examination of private lives. It was always my intention for Rectify to be, at times, voyeuristic. Daniel's entire adult life has been on display in a bright, windowless 6 by 9 feet room. Beyond him our other characters are observed in moments that they themselves might not even be aware of. And like our characters doing the watching, we might be titillated while feeling uneasy at our own natures.
Was it your intent to make Daniel a sympathetic character? Did you find that a challenge at all? At least in the start, the viewer is completely on his side.
I was sympathetic to Daniel but I was also fascinated by him. And not quite sure about him. I have always felt if we have him completely figured out, it's not a show I would be interested in. Daniel is not a protagonist in the traditional sense nor is he the anti-hero that has been explored so thoroughly in the last decade or so in television. Daniel is unformed. We are able to project our own experiences and bias on him so he can be what we want him to be.
Did you do any research for this, speak to anyone who'd been on death row or read up on it? If so, did any one case stand out to you that you can share?
No one death row story was a template. I researched many but I always wanted the story to be free of the restrictions of "reality." That is, once Rectify adheres too strictly to the research of its subject matter, it loses some of that creative freedom purely fictional stories have.
What inspired you to do this project in the first place?
I was inspired by a number of death row cases out of Illinois over a decade ago.
I actually watched this when I had the flu and slightly delirious. It made some of the philosophical discussions even more profound.
I think delirium is a perfect state of mind to enter into the world of Paulie, Georgia. It might soften you up some. I like philosophical discussions. We keep doing the same shit over and over, perhaps we could talk about why that is… again.
What are some TV shows and films that have inspired you creatively?
Shows or movies that I was inspired by? Oh man, so many. "The Unbearable Lightness of Being." "Mad Men." "Joe Gould's Secret." "The Sopranos." "The Last Picture Show." "Dirty Dingus Magee."
Were all the prison scenes in a real prison? Was that a challenge for the actors, producers and yourself, and did it lend something to it?
Daniel being released in the first episode was in a real jail. The flashbacks were all shot in a warehouse. Certainly, the real jail had real prisoners and we had to be mindful of that.

Did winning an Academy Award for the short film "The Accountant" inspire you to do more jobs where you run the show? How did that project come about?
Most of what I have "accomplished" has been by accident. Really it's been the kernel of a story that grew into something more. Like The Accountant, I just wanted to tell a story on film and it eventually manifested. It was so gratifying that I wanted to do more beyond it. I have been fortunate enough to do so but I am always aware that it is all so finite. With Rectify it was sparked by an idea that led to its form as a TV show that led where it is now. It was no grand design. At least on my part.
Which do you prefer more: in front of or behind the camera?
I like both positions in relation to the camera. It's all about storytelling both have their positives. I am, as they say, taking a break from the action.

What would be the first thing you would do if you were in prison for 19 years and were exonerated? Is it what you wrote in the series—or something else?
What would I do after nineteen years? That I can't imagine. It would be too much to get my head around. I suppose that's why I created this fictional person to take that journey. I like where he landed.