Q&A With ONE World Sports' John Vilade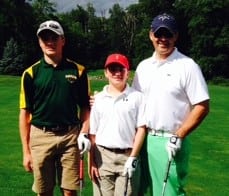 John Vilade is ONE World Sports' new evp of advertising sales. For two decades he has worked in ad sales at companies like CBS, Hulu, NBC and Discovery Communications. But there's plenty more to John. Here are a few things he likes to do in his down time.
What would your industry colleagues be surprised to learn about you?
It used to be nearly impossible to pry me away from a karaoke machine. I'm fully recovered though now and only sing in church.
Tell us some fun facts about yourself.
Since we're talking global sports, here are a couple…
I share the same birthday with former NY Cosmos legend and all-time-soccer great, Pele (October 23rd) … and of course The NY Cosmos can be seen on ONE World Sports! I am also the great-grandson of former standout West Bromwich Albion "footballer" Tommy Magee, who played for WBA in the 1920s & '30s.
What are some of your hobbies away from the office?
We're a big sports family and spend a ton of time together at home and on the road for school and travel ice-hockey with our teenage sons. We love it! (See family pic below.)
What drew you to the television industry?
I have always had an affinity for the media business from a very young age – especially radio and television. Growing up within the NYC media market, I'd always imagined working for one of the major television networks. While in college, in addition to studying about new and emerging broadcast and digital technologies, I was able to generate several great opportunities to network with executives from the industry and it really cemented my desire to get into the "business-side" of the television industry. Several of those executives ended up helping me into my first role with NBC. I'm forever grateful.
What sports did you play in school, or continue to play?
Growing up I played several sports including baseball, soccer, basketball and lots of pond hockey. My primary sport and first love was baseball. A couple of years ago, I retired from a six-year men's league hockey career, where I'm pretty sure I lead my team in penalty minutes every season. Now I play tennis and as much golf as I can — and nobody gets hurt!
You're a Baylor alum. Did you grow up down South?
Born and raised in New Jersey … but certainly love the South, especially the great state of Texas.
Baylor's a big sports school, known for their football and basketball. Did that background draw you to a sports network?
I'm a passionate fan of Baylor sports — especially Baylor Bear football. Sports have always been a big part of my life; so coming to a dedicated sports network is a natural for me. I love the differentiated and premium nature of what ONE World Sports offers U.S. TV viewing audiences and digital video consumers.