Q&A With 'Portlandia's' Fred Armisen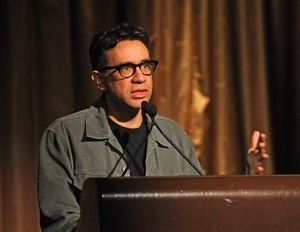 "Portlandia" star Fred Armisen speaks at the Center for Communication
award luncheon honoring AMC Networks' Josh Sapan.
Fred Armisen, creator and star of IFC's "Portlandia," won big at the CableFAX Program Awards Tuesday, clinching our Best Actor in a Comedy and Best Comedy Show awards. Others share our appreciation for the popular new series, including AMC Nets' president & CEO Josh Sapan, who called the Portland-themed sketch comedy show "by far the funniest show IFC has ever had," after being roasted at Center for Communication award luncheon on Monday. The event was headlined by Joan Rivers, but Armisen spoke briefly—and quite flatteringly—about Sapan. Briefly is the operative word here, as we learned when attempting to interview the SNL star. Here's Armisen, on "Portlandia" and process.
How did "Portlandia" get started and how did the idea come about?
It was something we always wanted to try. We just started shooting videos for no reason in particular. Then it kept going.
As writer and actor for this show, do you have complete creative freedom? How does it compare to SNL?
Complete freedom is not always the best thing.
How do you get your ideas for skits?
I can't remember really. Sometimes with some luck, an idea will come to me. Or us. It's hard to tell where they come from.
Do people from Portland tend to love or hate your caricatures? Do they get the joke or take offense?
There is no such thing as hate.
Do you have a favorite character?
I love Jiminy Cricket. The way he dresses, and he's always pleasant.
Which guest star did you enjoy working with the most?
[Sex Pistols guitarist] Steve Jones. That was a dream come true. Going all the way back to high school.
It seems like you do a lot of improv. Is there a lot of writing up front?
Sometimes. Just blueprints at first.