Putting on the Ritz with Cinémoi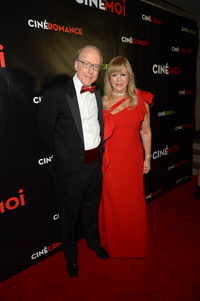 CEO of Cinémoi North America Roderick
Sherwood with Cinémoi pres Daphna Ziman
Add Cinémoi to the list of start-up networks seeking carriage these days. Having launched in Sept on DirecTV with 20mln households, the channel is hungry for a larger audience. Cinémoi is devoted to curated films, high couture and international lifestyle programming. It's putting the emphasis on indulgence.
"I think the most important thing that we bring to the mix and DirecTV is the luxury platform. What we've really gone for is not in existence today… bringing back glamour to American television," said Cinémoi pres Daphna Edwards Ziman. The movies it telecasts are a little different. There are international titles as well as some US movies, and all are primarily in English. "Our movies are not repeated like the movies on other channels right now. We really look for movies that are not everywhere else. We select them because they may have an award-winning track record or major stars or directors, but they haven't been overexposed," she said.
Movie selections include "Two Lovers" with Joaquin Phoenix, "Contempt" with Brigitte Bardot and Jack Palance and "Dangerous Beauty" starring Naomi Watts and Jacqueline Bisset. The net breaks film down into categories such as CineEpics, CineFemmeFatale and CineBioDocs. It also has its own series, including chat show "The Jonathan Ross Show." On Sat, guests include Warwick Davis ("Harry Potter"), model Jourdan Dunn and band Depeche Mode.
But is a channel celebrating luxury the right note when one of the highest-rated programs on TV right now follows the self-described rednecks of "Duck Dynasty"?
"The feedback from the viewers has been very positive… from social media and the viewers themselves. That's coming from DirecTV, but also the people who don't have Cinémoi are calling the other carriers and asking for it," said CEO Rod Sherwood, who is the former CEO for Westwood One and EVP for DirecTV International.
One of the ways Cinémoi is pushing for carriage is through a marketing campaign that includes going into fashion blogs and movie lover blogs and spreading the message. "We have a street team now that is going into the colleges, acquainting college students with some of our movies and screening some of the movies for them," said Ziman. The competition for carriage will be tough, with a number of start-ups seeking lineup space, including Glenn Beck's TheBlaze, Magic Johnson's ASPiRE, English-language global sports net ONE World Sports and Wealth TV's upcoming sister net One America News Network. Just a reminder that even in an increasingly digital world, linear still matters.