Programming Highlights from Discovery Communications' 2015 Upfront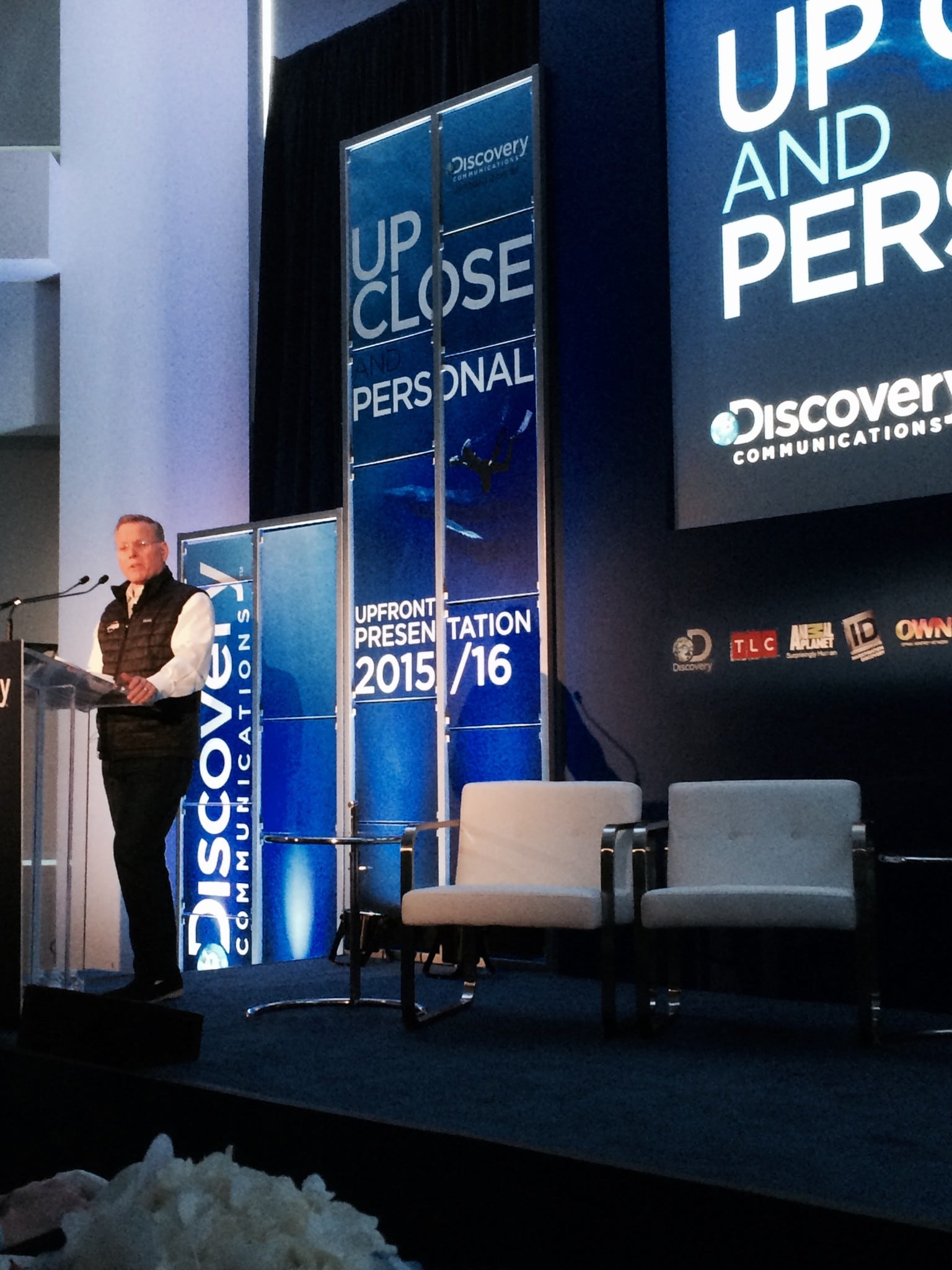 Discovery Communications is investing $2 billion in content, according to president and CEO David Zaslav, within the U.S. and now more and more across the globe. And that means a ton of new programming. Here's a sampling of some of the company's newest shows and acquisitions announced at the upfront on Tuesday.
Discovery Channel is adding documentary, scripted and unscripted programming to its slate, along with a block of mountain climbing-themed series and docs called Elevation Weekend. The latter is anchored by the film "Valley Uprising," which follows a group of rock climbers trekking the mountains of Yosemite Valley, CA. Also during the weekend is the doc "Racing Extinction," from the creators of the Academy Award-winning doc "The Cove." Shark Week will kick off even earlier this year on July 5 and will delve even deeper into the ocean to film great whites. For scripted, the minseries "Harley-Davidson" will depict the real story of the motorcycles' two young founders. New unscripted series include "Naked and Afraid XL," which features 12 contestants from the original shows; the search for a horde of Incan Gold in "Treasure Quest"; and Hawaiian fishermen battling it out for the best fish in "Pacific Warriors."
TLC is family focused in its series additions. Among the new shows are "Long Lost Family," which helps people reunite with lost loved ones, and "Hardly Royal," which follows Maryland native and regular guy David Drew, who suddenly discovers he's the heir and king of the UK's Isle of Mann. Another theme is style and wedding programming. For instance, "Dare to Wear" employs the taste of style expert Tai Beauchamp to undo fashion disasters. "#SaveMyStyle" is a multiplatform play in which celebrity stylist June Ambrose seeks out makeover candidates on social media. Under the third theme of lifestyle moments, "Married by Mom and Dad" looks at people who've agreed to let their parents pick their perfect match.
Animal Planet announced a slew of new series, such as the muscular conservation series "Sheriff of Cross River." It tracks Nigeria's wildlife warrior Peter Jenkins as he wards off poachers and protects the animal population. "America Builds a Shelter" saves struggling shelters in need of renovations and in "Restoration Wild" builder Jay Chaikin revamps and modernizes dilapidated and abandoned structures. The special "Living with Maneaters" looks at the cross proximity in which humans and predatory cats live together in India.
Investigation Discovery is entering the scripted realm with the three-part miniseries "Serial Thriller," though Henry Schleiff, group president of ID, Destination America, American Heroes Channel, Discovery Life Channel and Discovery Family Channel noted that the genre of scripted television varies in some ways. "ID has been doing recreations for some time without shouting it," he said, and in this case, the series is "the way a case would be unraveled by a detective." Other new series include "Death by Gossip With Wendy Williams," "American Scandal With Barbara Walters" and filmmaker Joel Schumacher's "Do Not Disturb: Hotel Horrors."
Science Channel announcements include "Secret Space Disasters," which looks at real yet unexpected encounters from human space exploration, "Short-Attention-Span Science," which answers science questions in 163 seconds or less, and a look at international spy stories in "True Spy."
A few specials were introduced by Destination America, including an East-to-West tour of the countryside in "Epic America," and "9/11: The Lost Hero," which tells the inspiring tale soldier Jason Thomas' heroics on 9/11.
A highlight for Velocity is the new series "Unique Rides With Will Castro." A builder of custom autos for celebrities, Castro takes viewers on rides from start to finish, revealing his design process and artistry along the way. Also new to the slate is "Iron Resurrection," which films "Biker Build-Off" winner Joe Martin and his family as they restore bikes and boats.
American Heroes Channel presented the new series "American Empire," about titans of industry like Rockefeller, Carnegie and Ford. "Blood Feuds" depicts epic rivalries in U.S. history. "Natural Born Outlaws," "The Civil War Project" and "American Lawmen" will also air this year and in 2016.
Discovery Life Channel's slate focuses medical mysteries and stories that overcome diversity. "An Hour to Save Your Life" tackles doctors' life-or-death decisions. "In an Instant" looks at freak accidents caused by Mother Nature and other unpredictable factors. "Sex in Public" encourages people to open up about their sex lives. And "Vegas 101" recounts stories from one of the busiest ERs in the country.
Lastly, Discovery Family, which rebranded in October 2014 from The Hub, announced 200 hours of new programming. Upcoming series include "From Wags to Riches With Bill Berloni," which follows Berloni's life as a theatrical animal trainer. "American Finders" is about setting out to find those people who you desperately want to thank. And "Babies Behaving Badly" shows what little tykes do when adults aren't looking.